By Brian Abrahams and Greg Renza
Published June 1, 2021 | 3 min read
Key Points
There are complicating factors in the way of 'true' herd immunity, but a threshold of 65% immunity by July should significantly curb morbidity and boost the return to normality.
We're likely to see a further COVID spike in winter, as immunity in the vaccinated population wanes, but how bad it is will depend on the spread and aggression of new variants.
The global danger will likely persist as long as any country remains below a safe vaccination threshold, where sustained virus replication will cause further mutations that may spread and reinfect even immunized populations.
The situation in India threatens not only further mutants, but also the supply chain of active pharmaceutical ingredients (API) and the global economic recovery.
Required Disclosures and Disclaimers
---
The recent sharp decline in US COVID-related death rates has come as an enormous relief to the country. In early April, the rate was at 1.0% per positive case, the lowest level since the start of the pandemic, translating to an infection fatality rate of just 0.44%. Now that the most vulnerable in the population are largely vaccinated (68% of those 65 and older) and medical care has continued to improve, we believe that the mortality/morbidity rate should become an increasingly important proxy for policy decisisons around reopening, rather than just case rates. By this measure, we should then see a return to quasi-normalcy by July or even June.
When will we reach herd immunity?
'True' herd immunity, and the dream of disease eradication, remain distant goals. But reaching a level of immunity in the population that drastically reduces the mortality rate and facilitates normal social and economic conditions appears within grasp.
Daily vaccination rates are starting to slowly decline, currently at 2.7 million a day from three million at their peak, but as of end-April, 29.1% of the population were fully vaccinated and 42.7% had received at least one dose. According to real-world results, most mRNA vaccines create around an 80% protection after one shot, versus 90% after two, which has helped case rates to decline. At the current vaccine run-rate, we estimate that our original herd immunity threshold of 65% should be reached by July.
This is likely to lead to significant easing of restrictions and a return to almost-normal life, but it will not eradicate the disease. Real-world results on the duration of effective immunity still have to be gathered and existing vaccines may prove ineffective against emerging variants. The variability in vaccination rates across different states, and in different countries, along with vaccine reticence following bloodclot concerns around the Johnson and Johnson and AstraZeneca vaccines, will also hamper 'true' herd immunity, in our view.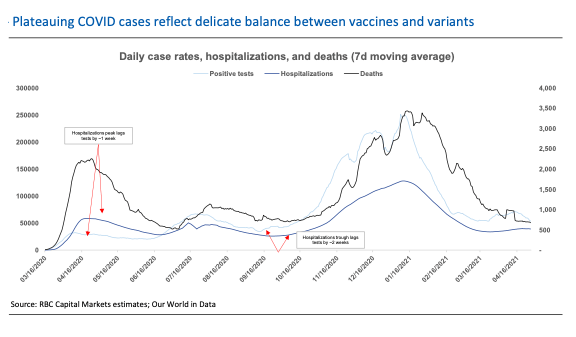 Seasonal spike this fall/winter
These elements of variability in vaccine take-up are also at play in the anticipated spike in cases in fall/winter this year, along with the timing and rise of new variants. Once we approach the 12 month mark since the highest-risk individuals were vaccinated, these individuals become the most at risk for the waning of immunity over time. More indoor activities will resume as the weather worsens, potentially without any restrictions, which may lead to an increase in mortality. We currently expect moderate regional pockets of outbreaks, but this forecast depends on mutant variant spread and the effectiveness of existing vaccines and/or boosters against new types of COVID.
"Many scientists have theorized that COVID could eventually be managed with yearly shots, much as annual flu shots help to reduce morbidity in vulnerable sectors of the population. Seasonal outbreaks could be regional, but it's likely that the impacts would be relatively moderate."
Here, there is already some good news. Preliminary clinical data on the Pfizer/BioNTech suggests it remains effective against the South African strain, for example. Meanwhile, Moderna has announced initial data from a Phase 2 study that shows its booster, given to previously vaccinated individuals, is effective against both the South African and Brazilian variants. Many scientists have theorized that COVID could eventually be managed with yearly shots, much as annual flu shots help to reduce morbidity in vulnerable sectors of the population. These seasonal outbreaks could be regional, with some areas experiencing more of a surge, but we believe it's likely that the impacts would be relatively moderate.
A global problem needs a global solution
However, the current dire situation in India highlights how the pandemic will continue to be a global problem unless vaccination becomes more widespread. Uncontrolled infection in India, which has only vaccinated around 130 million of its 1.36 billion inhabitants, could lead to more virulent or fatal mutations that may not be as susceptible to current vaccines or boosters in development. Even outside of this deadly consequence, a continued pandemic in India threatens API manufacturing and the global economic recovery.
Pre-COVID estimates by the FDA suggests that 18% of API manufacturing sites for the US market are located in India. Biopharma companies dependent on these suppliers, particularly generic manufacturers with thinner margins, could be at increased risk of disruption if widespread measures to combat the rising infection rate limits production.
The impact on India's economic recovery, and by extension, the world's, is also at risk. In January, the IMF predicted that India's GDP growth in 2021 could be among the highest in the world, around 11.5%, followed by 6.8% in 2022. If the country has to impose social and economic restrictions to control the virus, this could delay or reduce this growth.
Until the virus is fully suppressed on a global scale, the scenario of seasonal cycles of COVID-19, perpetuated by evolving mutations, is much more likely. We think we are unlikely to face the same damage again as we did in 2020, because we can build on existing vaccines, we have much improved medical interventions and there will be partial population protection. But speeding a return to full normality across the world will require a more even distribution of vaccine protection, in our view.