By Brian Abrahams, Michael Carroll, Brad Heffern and Gregory Renza
Published June 7, 2021 | 4 min read
Key Points
Biotech is booming, driven by a jump in private and public funding for R&D, technological advancements in data processing and gene sequencing and strong demand drivers including an aging population and the need to stymie rising healthcare costs, according to our RBC analysts.
There are still potential headwinds that could slow expected growth in the biotech industry, but fundamentals for lab real estate appear solid.
The rapidly expanding industry needs laboratory real estate and existing lab space in highly favored top cluster markets like Boston, San Francisco and San Diego is running low. That's fueling demand, pushing vacancy rates lower and rents higher, according to our views.
Against the backdrop of the booming biotech industry, we believe development opportunities offer attractive risk adjusted returns for REITs with life science portfolios.
Required Disclosures and Disclaimers
---
We believe a wide range of factors are converging to further accelerate growth in the biotech industry. While the sector was already heating up prior to when the pandemic struck in 2020, the rapid development of vaccines to combat COVID-19 has significantly raised biopharma's public profile, spurring investor interest and increasing funding.
The broader life sciences industry is seen as critical to reducing healthcare costs, enhancing the quality of life and protecting against future pandemics. Healthcare expenditures represented 17.7% of US GDP in 2018, and due to the aging population, are projected to increase to 19.7% in 2028 according to the Centers for Medicare & Medicaid Services (CMS). In our view, the best way to keep people out of hospitals, reduce the stress on healthcare delivery systems and curb rising costs is to develop therapies or cures for diseases, especially chronic ones.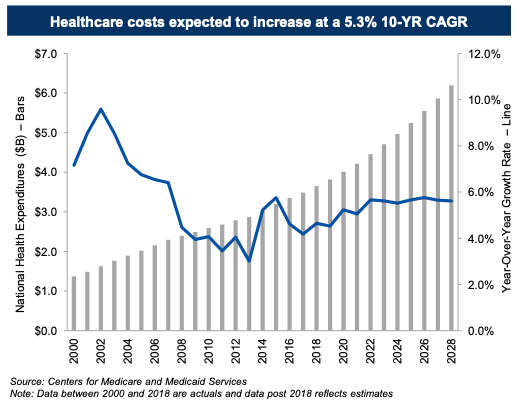 Technological innovation driving new therapies
Now, more than ever, new therapeutic pathways are opening up, as technological advances should power the biopharma industry towards new discoveries. The Human Genome Project took 13 years to sequence the first human genome in 2003, at a cost of around $3 billion. The cost dropped dramatically to around $70,000 near by 2010, and then to just $689 in August 2020. Certain companies can now complete a sequencing run in around 25 hours, excluding prep time. This ability provides researchers with invaluable information regarding human biology and should allow them to develop personalized treatment plans and target therapies that are more effective and have fewer side effects.
Access to all this data would be useless without the power to process it efficiently, but there have been significant advances in computing power, machine learning and artificial intelligence over roughly the same time period. This allows researchers the ability to efficiently analyze massive amounts of data to create personalized plans. It also allows computers to mine the human genome for new data, a process that has accelerated the discovery of disease-causing mutations, which can then be targeted by new therapies.
Technology is already supporting drug screening, identification and optimization processes by replacing real-world chemical experiments with simulations. And it should also help to streamline clinical trials and make them more efficient by AI-matching eligible candidates, using virtual appointments to minimize mid-trial dropouts and wearable sensors to improve data tracking and reliability.
Funding boost should allow aggressive pursuit of new and existing R&D projects
Scientists are breaking through barriers and investors, both public and private, are taking note. There has been a huge cash injection into R&D in the sector in the last 12 months, which has been powering new breakthroughs and benefits for patients.
The biotech sector raised $72.5 billion in 2020, nearly doubling the $37.8 billion raised in 2019 and the prior 3-year average of $38.9 billion. Public sources had the biggest improvement, jumping to $57.7 billion in 2020 from $28.3 billion in 2019. But VC and private placement also saw healthy improvement increasing to $14.8 billion in 2020 from $9.5 billion in 2019. Government funding is also increasing. The National Institute of Health's (NIH) budget was set at $42.9 billion in FY21, up from $41.6 billion in FY20; and the new administration is in the early stages of setting $51 million in FY22.
We can already see the benefits of what heightened funding in biopharma can do. When companies and governments invested heavily in the fight against COVID-19, the first vaccines were developed in approximately 11 months, an 80% reduction compared to average historical timelines. Today, gene therapy and gene editing are targeting rare diseases, cell therapy is attacking cancers, oligonucleotides regulate the expression of genes to treat cancers and rare diseases, and novel antibody approaches are helping the body's own immune system to fight back.

Short supply and high demand for desired lab space
Against this backdrop, another trend is emerging in the short supply of quality lab space. Medical innovation is concentrated in clusters – highly collaborative ecosystems that generally have a number of elements in place. Leading research institutions, high quality healthcare systems with a teaching slant, and often, a number of existing successful firms together make a cluster of innovation potential.
The top three in the US are in Boston, centered around Harvard and MIT in Cambridge, San Francisco, where UCSF, Stanford and UC Berkeley combine with Silicon Valley synergies, and San Diego, home to UCSD and top firms like Pfizer and Illumina. These clusters account for around 70% of all life science PE and VC funds raised since 2016.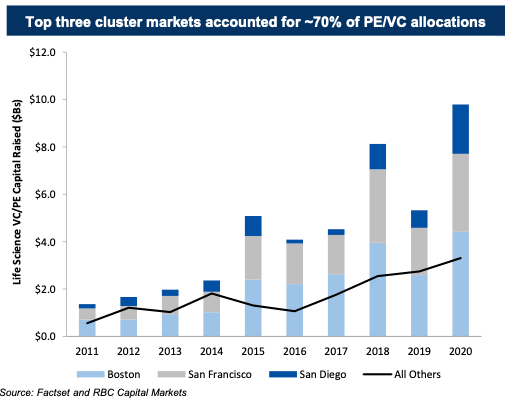 But space in these clusters is limited. Life science buildings need unique features to allow applied or clinical research, including load and vibration requirements, building and floor height restrictions and adjacent land for cooling towers, hazardous waste storage and more. Because companies also want to locate within clusters, that's driving up demand and rental rates.
According to RBC Capital Markets Equity Research Team estimates, lab vacancy rates in premium submarkets are just 3.5% and developers are responding with what we estimate at around 1.9 million square feet of labs in Boston in 2021, 3.3 million in San Francisco and 1.1 million in San Diego. Tenants are already looking outside the premium submarkets, like Cambridge in Boston and Torrey Pines in San Diego, to neighboring regions that remain well-connected to the centers of innovation by proximity and/or transport links.
Headwinds and fundamentals
There are still potential headwinds that could slow expected growth in the biotech industry, according to our analysts. Drug pricing issues could come to the fore again, for example. And we also foresee increasing regulatory uncertainty for 2021 and the near-term as the pandemic continues and the FDA's workload remains high.
However, we estaimte fundamentals for real estate should remain solid over the same period. Supply and demand is the most fundamental factor for real estate and with this disparity between the two in top medical clusters, we predict attractive returns for REITS with the right portfolios.