By Brian Abrahams, Kennen MacKay, Luca Issi, Greg Renza and Charles Weston
Published August 20, 2021 | 4 min read
Key Points
A difficult year for biotech so far, but 49% of investors surveyed see the sector as undervalued, a large increase from early this year.
The latest COVID-19 wave could delay turnaround in sentiment, but may also help companies involved in vaccines and treatments.
Biopharma M&A has been muted, but with available cash, looming patent cliffs and some depressed valuations, expect more deal activity ahead.
Innovation is expected to continue at a rapid pace around new drug targets, design, manufacturing, cell and gene therapies and expansion into new diseases.
---
The biotech sector has come down firmly from the highs of February as negative sentiment takes hold. The sector had a major boost of optimism from the success of the COVID-19 vaccines, making investors keenly aware of the potential of biopharma R&D engines. But from early this year, clinical trial, regulatory and access setbacks have reminded investors of the sector's inherent risks.
RBC Capital Markets recently surveyed investors to take the temperature of the market, a mix of specialists/generalists and long-only/ long-short investment strategies. Heading into the second half of the year, investors mostly see the sector as undervalued (49%), a large change from the first half of the year when only 20% rated it as undervalued. Around 41% of investors now believe that biotech will underperform the S&P500 in the second half of 2021. Despite that view, 54% plan to maintain their position in the market and 41% still plan to increase their holdings.
Source: RBC Capital Markets Survey
Drug policy uncertainty
Investors still seem potentially intrigued in the market, even if their sentiment has become more pessimistic. The biggest factors driving this pessimism are drug pricing and policy, even as gridlock in Congress continues to stymie any legislative action. However, key members of the Democratic Party remain critical towards the industry in terms of drug pricing and tax reform. Meanwhile, the approval and subsequent controversy around the Alzheimer's drug aducanumab could drive more bipartisan motivation for action.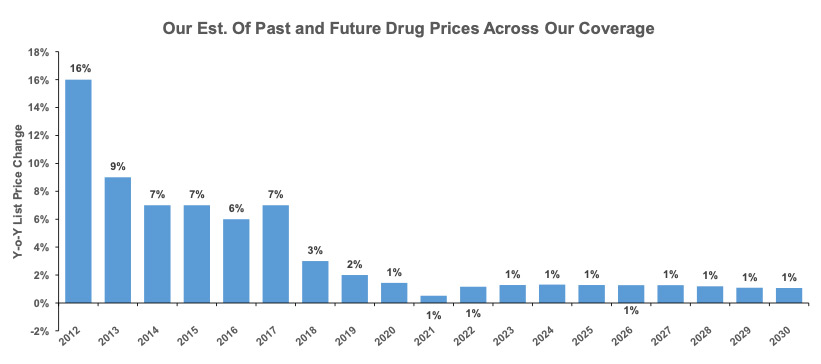 Source: RBC Capital Markets estimates
As it stands, both pricing and policy are very much in limbo. There's no permanent head at the US Food and Drug Administration (FDA) yet, which is contributing to regulatory uncertainty, and the agency's Prescription Drug User Fee Act (PDUFA) is due for reauthorization by September 2022. The negotiations for the PDUFA are in the early stages, but it's an obvious opportunity for reforms.
The pandemic is still impacting economic recovery
The COVID-19 crisis continues to have a significant impact on the sector. It's a positive driver for those companies involved in vaccines and treatments and, more widely, as a milestone in the history of public health, leading to a more positive public perception of the industry. As the pandemic recedes, generalist interest in biotech may return, opening up new sources of capital for innovation.
But it's also a negative influence, directly impacting clinical trials and drug launches, and creating unfavorable economic conditions. There's now a large pool of unemployed and un- or underinsured individuals, which may yet increase, and could put pressure on pricing and access regulation. The US is also in the midst of a Delta spike, similar to those underway in the UK and Israel, which may delay full reopening. If variants continue to circulate, it could further impact the economic recovery.
Patents and innovation
One of the key debates around COVID-19 vaccines has centered on waiving IP rights to help bolster production of existing vaccines. Detractors argue that even without IP rights, many nations lack the skills, expertise and facilities to produce vaccines. Advocates, however, say a successfully negotiated waiver would stop manufacturers from blocking production or access to raw materials and also prevent companies from charging unaffordable prices while insulated from competition.
This debate, along with a number of looming near to mid-term mega patent cliffs in the industry, could keep patent protection at the forefront of investors' and regulators' minds. With more antitrust scrutiny to enable faster pathways for biosimilars, complex generics, Citizen Petition review, REMS testing and backlogged ANDAs, the potential longevity of biotech franchises could be capped. However, large-cap companies have navigated some recent expiries through bolt-on products, settlements, litigation wins and pipeline progression or expansion.
Biotech innovation, however, remains a key driver of value in the sector and is expected to continue at a rapid pace – possibly benefiting from R&D advances and funding following the pandemic. We expect innovation around new drug targets, design, manufacturing, and delivery of advanced cell and gene therapies, and expansion into new diseases, particularly in the cancer, neurology, and rare disease spaces, to drive enthusiasm for the industry.
M&A, earnings and growth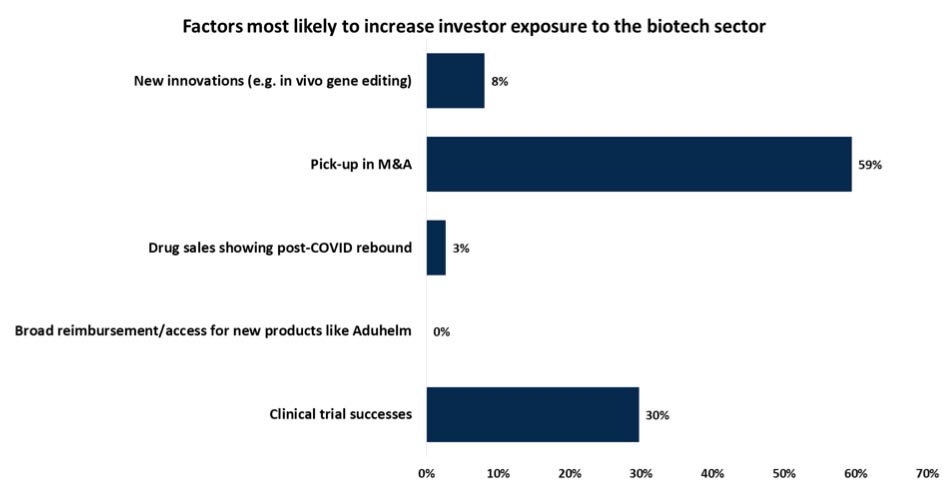 Source: RBC Capital Markets Survey
It's been a tough year for biotech so far, with the XBI down 10% on the year despite a rising broader market. After a record run, FDA stringency on cutting-edge modalities and a series of negative data catalysts have highlighted that inherent drug development risks had not been appropriately recognized in rising company valuations. But there are some signals that we're near the bottom. Innovation is one important driver for a bounce back, but M&A activity and earnings reports could also have their part to play.
Any sharp downticks in major M&A deals, such as we've seen in recent months, have almost always been followed by a sharp uptick. Biopharma firms are flush with cash and with looming patent cliffs and depressed valuations among some smaller firms, we could see more deal activity through year-end. The possibility is further bolstered by management commentary, which continues to suggest openness to M&A deals. What's changed is that large biopharma seems to be preferring smaller, earlier stage deals, private companies, or discounted late-stage assets, rather than the large $15 billion acquisitions we've seen in the past.

Note: 2018 excludes Takeda-Shire deal; excludes SPACs; graphs based on announcement date
Source: RBC Capital Markets, Company reports, FactSet
With the economy reopening to a degree already in the first half of 2021 and COVID vaccines continuing to roll out worldwide, it's likely that biotechs will also show improvements in reported earnings in the second half of the year. As the sector demonstrates continued recovery and accelerates commercial execution in the reopened economy, while showing interest in M&A and business development, this could revitalize interest in small, mid and large-cap names. Many of these names are at current lows and those valuations could look attractive as the companies continue to diversify and investors recognize that their pipelines are underappreciated.
Brian Abrahams, Kennen MacKay, Gregory Renza, Luca Issi and Charles Weston authored "2021 RBC Biotech Halftime Report: Negativity May Create Long-Term Opportunity" published on July 20, 2021. For more information about the full report, please contact your RBC representative.