By Brian Abrahams, Luca Issi and Greg Renza
Published February 23, 2021 | 4 min read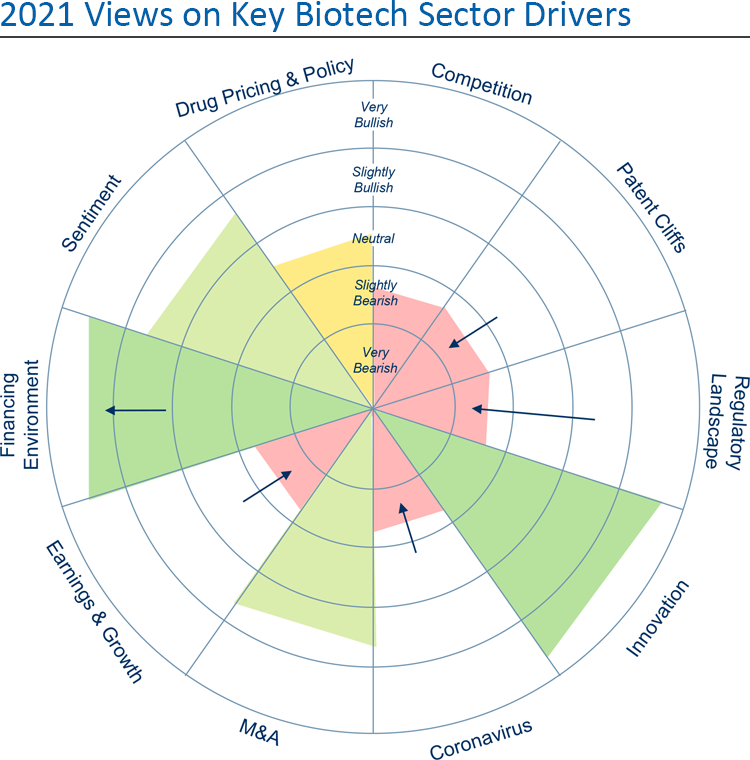 Source: RBC Capital Markets
The success of biotech companies in rapidly developing COVID-19 treatments and vaccines in 2020 favorably showcased innovation in the sector, driving investment and making the sector more accessible to generalist as well as specialist investors. The sector not only raised interest among investors, but political goodwill also made the risk of drug pricing intervention, which had been a significant potential headwind prior to the pandemic, all but disappear.
But 2021 is a new year. Vaccine rollout and distribution started off slowly but has picked up pace, and if a greater level of societal normalcy is achieved by the summer, the second half of 2021 could see investor funds flow back into the non-healthcare sectors that were on hold during the pandemic. At the same time, a wide or deep recession could bring drug pricing policy back up the agenda, as people struggle with the economic aftermath of the pandemic.
The continuing influence of COVID-19
This year in biotech will hinge on the outcomes of the pandemic, how the disease itself waxes and wanes, how long it takes to return to a degree of normalcy, and the extent of the economic fallout. But in the biotech sector, we anticipate that there are additional key issues that could drive or hamper investment into the sector.
Although most investors see the sector as fairly-valued or even over-valued, our investor survey indicates that very few are willing to decrease their exposure, as they still expect it to outperform the S&P 500. For investors, innovation, M&A and the financing environment are the biggest tailwinds, and we would agree.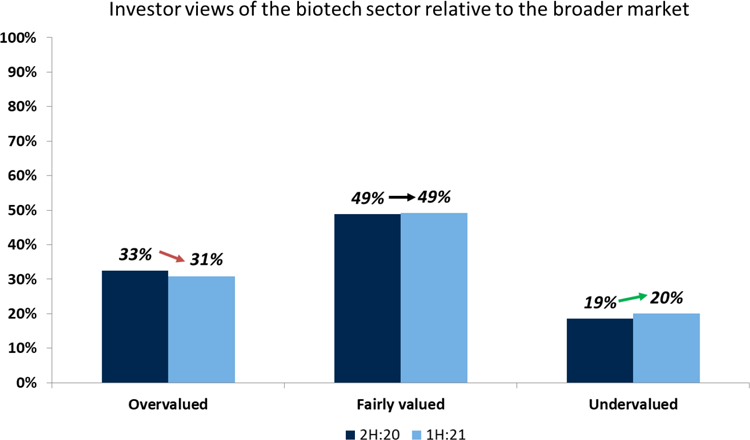 Source: RBC Capital Markets
Inventive innovation
The strongest of these is innovation, which continues at a rapid pace, driven by both long-term investments in basic science and an environment that nurtures entrepreneurship. Basic scientific discoveries in recent years have uncovered novel therapeutic targets and new mechanisms of treating disease, and have provided investigators with more reliable tools with which to predict a drug's activity and safety. Advances in our understanding of genetics for example, have led to innovations in gene manipulation such as next-generation RNAi therapies, and we are already reaping the benefits of mRNA delivery of some of the coronavirus vaccines.
Advances are continuing in modalities like cell and gene therapies, as well as in cancer, neurology and rare diseases. COVID-19 has highlighted the need for research funding to the public, which may well prove to be a long-term driver of investment. And the pandemic has also brought telemedicine and remote care to the forefront, a potential intersection point for tech and health investors which could broaden access to healthcare in the coming years.
Appealing M&A and record-breaking IPOs
The second half of 2020 saw increased M&A activity as low interest rates, strong cash positions, and the need for growth and pipeline diversification primed the market for deal-making. These drivers should continue into 2021. Street forecasts suggest 2021 could see a slowdown in both top- and bottom-line growth, which could incentivize large cap biopharmas to look toward M&A opportunities to bolster both. And there may be interest in highly valued non-partnered pipelines in indications such as oncology, rare diseases, neurology, and immunology.
In 2020, IPO market activity had exceptionally strong momentum, with record-breaking numbers of deals and capital raised. The growth in private market investments sets biotech up well for future IPOs and higher follow-on financing going into 2021. And as the average return was mostly strong last year, we believe that investor appetite will remain high.

Regulatory changes
There are, however, some headwinds that could come to fruition in 2021. The FDA has done an admirable job of keeping INDs, NDAs, and approvals flowing throughout the pandemic so far, but it may be difficult to maintain moving forward. More than two-thirds of clinical trials have experienced enrollment halts and some companies have had to halt or suspend enrollment to guard against COVID-related complications.
In addition to logistical challenges, there have been notable drug rejections during 2020, that may indicate less predictability and communicativeness from the FDA as it tackles increasingly complex new modalities. The regulatory landscape is more uncertain heading into 2021, and there will be a new FDA commissioner, with new priorities, to factor into outlooks.
Competitive dynamics and future growth
Competition was substantial in biotech in 2020, and we expect that to continue this year. This competitive environment is starting to intensify in several important markets, including rare genetic diseases, novel gene modalities and inflammatory diseases. This could lead to significant discounting to maintain market share, leading to reduced revenues or limited growth for competing companies.
Outside of competitive forces, earnings and growth could make investors cautious this year. The multiples of legacy large-cap firms remain relatively low and growth in the face of drug pricing constraints and nearing patent cliffs is challenging. While innovative mid-caps have shown clinical and commercial success that gives them high potential growth, their valuations have already significantly expanded.
COVID-19 rates through the year could also add headwinds to physician-adminstered drugs or even complicate the launch of new drugs, particularly those with complex modalities that require in-patient visits.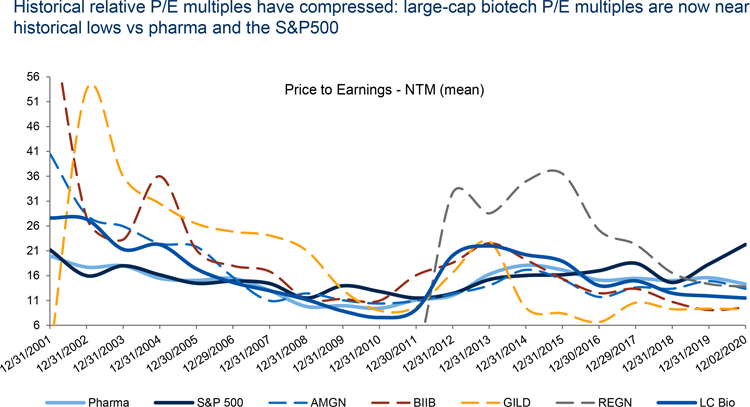 Note: Large-cap biotechs include AMGN, GILD, BIIB, and REGN; 2020 PE - NTM data are YTD.
Source: RBC Capital Markets, FactSet
Drug pricing, policy and the 2020 Election
The outcome for policy is difficult to weigh. While drug pricing policy has had strong bipartisan support in the past, the global pandemic has pushed the issue to the back of the collective mind and given the sector strong positive sentiment from the public. The new president holds the House of Representatives and a very slim majority in the Senate, and has spoken out about drug pricing. But President Biden has many other pressing concerns and priorities in his first few months in office that could push this issue far down the agenda.
Much of 2021 will require biotechs and their investors to carefully balance and anticipate the waxing and waning of the pandemic and its micro and macro influences on the sector. But towards the end of the year, investors will also need to start thinking about how they want to invest in the sector in a post-COVID world. This may result in more careful stock picks, with value and launch names benefitting, and potentially a closer focus on specific innovative areas, such as telehealth and gene therapies. Investors will also be looking with a careful eye at regulatory risk, both from the incoming administration, and around FDA approvals of increasingly complex therapeutic modalities.