By Sean Dodge
Published May 10, 2021 | 2 min read
Key Points
Digital health has the potential to significantly improve overall healthcare and lower costs, by supplementing in-person care with more efficient, effective and consumer-friendly services/capabilities.
Even among some of the most advanced/mature digital healthcare providers, utilization is still in the very early stages, around 20%. But we estimate 150%+ is feasible within the next decade.
The size of the addressable opportunities and the steady removal of regulatory and reimbursement hurdles, particularly post-pandemic, are helping draw in investment that's funding R&D and innovation.
There have been big shifts in the competitive landscape in the last 18 months, as new entrants emerge and incumbents rush to achieve scale.
Virtual health is not a new concept in healthcare, but it is a sector that represents enormous opportunity for investors, companies and patients. When the COVID-19 pandemic pushed regulators and insurers to work with digital provision, many of the historic barriers to virtual health disappeared overnight.
The acceleration of virtual healthcare
The pandemic has accelerated virtual care to a tipping point. In an April 2020 McKinsey consumer survey, 46% of respondents used a telehealth service following the initial COVID outbreak, versus only 11% in 2019.1 What's more, 76% of patients in a November 2020 Amwell study said they intended to use telehealth after the pandemic has subsided.2 The largest impediments to broad telehealth adoption in the past were an unfriendly regulatory and reimbursement landscape, but that landscape too was rapidly reshaped in the pandemic.
Some of the new regulations, such as removal of the necessity for practitioners to be licensed in each individual state, are temporary for now. But the pandemic is certain to catalyze longer term change as states, providers, doctors and patients experience the benefits and opportunities virtual health offers.
These benefits include eliminating geographic barriers, extending a provider or health system's capabilities, facilitating better collaboration among different providers or care teams and enabling the efficient delivery of more proactive and continuous care. We are rapidly reaching a point where virtual channels will be the first port of call for patients and from there, they will be intelligently routed to the best service and solution based on their medical needs and cost considerations.
The opportunity is immense
As well as delivering effective and convenient care in low-acuity scenarios and escalating patients to the right resources for higher-acuity situations, virtual health offers the opportunity to manage and monitor chronic conditions and provide whole person care. The US spends around $3T on chronic conditions every year, caring for a staggering 60% of US adults who suffer from at least one of these, including high blood pressure, high cholesterol and mood disorders.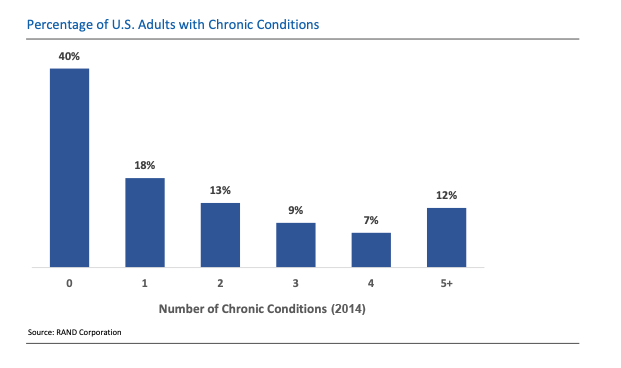 Virtual solutions, including telehealth appointments, wearables, virtual counselling and guidance, can help monitor and manage these conditions, alerting physicians of problems before they become acute and result in an emergency room visit. They also make management of the condition for the patient much more convenient, helping to reduce the impact that missed in-person appointments can have on a chronic condition.
Between chronic condition management and first port-of-call diagnostics, RBC analysts estimate that 35-40% of the medical care in the US that has been historically delivered in person could be virtualized. In addition, 75-80% of behavioral or mental health visits could eventually be done virtually, bringing the total addressable market to 40-45%. And we believe that this proportion can grow as innovation leads to more applications and use-cases.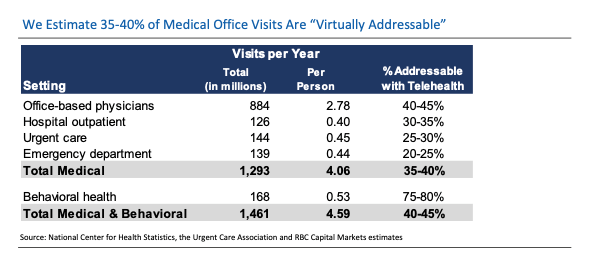 Positive momentum with room to grow
Right now, faster-growing digital health/HCIT stocks are trading at an average 10x '21E revenue, which is well above January 2020 levels of 4x NTM (next-twelve months). But these valuations are still a significant discount to the 20x average of more traditional tech peers, which are similarly growing and scalable. Tech investors are beginning to take note of these valuation disparities and that recognition is part of what's driven this valuation expansion in the last few years. However, there's still lots of room for multiples to go higher.
As most regulatory impediments to the growth we expect in virtual health have been cleared, the remaining barriers then are financial reimbursement and whether or not virtual health can lower costs or improve patient care. Here, there is positive momentum on both fronts. With huge investment in the sector, growing consumer demand and a supportive regulatory backdrop, this organic momentum is likely to drive these services straight through these potential headwinds.
---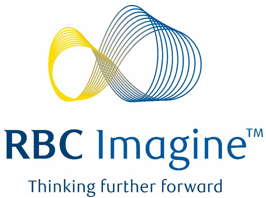 RBC Imagine™
This report is part of our RBC Imagine initiative, which assesses the long-term impact of emerging disruptive forces, thematic drivers of global change, and opportunities across the rapidly evolving equities landscape through management interviews, cross-sector case studies, and differentiated research reports.
---
Required Disclosures and Disclaimers
1. https://www.mckinsey.com/industries/healthcare-systems-and-services/our-insights/telehealth-a-quarter-trillion-dollar-post-covid-19-reality
2. https://business.amwell.com/press-release/new-amwell-research-finds-telehealth-use-will-accelerate-post-pandemic/