Required Conflicts Disclosures
---
Environmental, Social, and Governance (ESG) funds have experienced record-breaking flows and outperformed their conventional peers—even against the steep market sell off.
In addition, the pandemic has prompted companies with strong ESG profiles to zero in on social and human capital issues such as paid benefits, compensation, and other employee-first initiatives.
Although we've entered a very complicated landscape with plenty of factors at play, early color from our research suggests that these strategies have plenty of bounce in their step and may continue to show their resolve in the coming months.
Our latest ESG Scoop looks at key reporting season themes and flows and ESG fund flows through 1Q20 to gauge how these funds are enduring the market and economic upheaval.
Here are two key takeaways from our research:
1. Treatment of employees has been a recurring theme in recent corporate commentary.
As companies grapple with the impact of the pandemic on their workforce, employee well-being has become top priority.
Our reviews of S&P 500 corporate commentaries, press releases, and call transcripts through late April indicate that 48% of these companies ramped up their support of business continuity and health and safety initiatives. Consumer Staples and Financials, in particular, jumped out to us for raising compensation for onsite employees and enhancing time-off (including paid leave), health care, and child care benefits. Staples ramped up hiring, while Financials froze layoffs for the time being.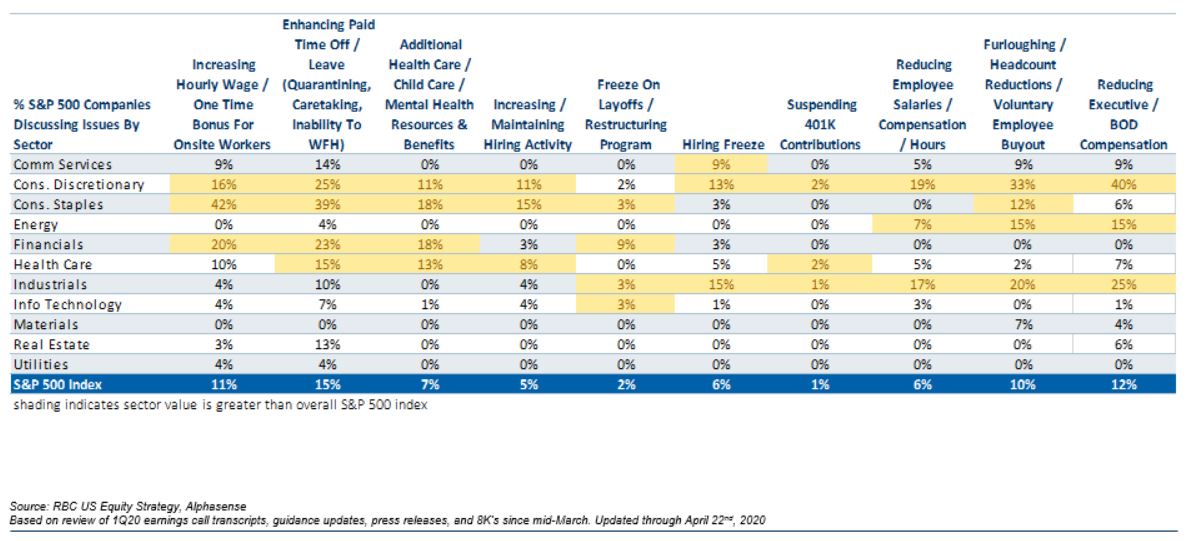 Consumer Discretionary and Industrials, among the hardest hit sectors, revealed that they are maintaining health care benefits through furlough periods, and have cut executive and board compensation.
2. Sustainable equity fund flows surged to new heights in 1Q20
Through the beginning of 2020, investors continued to rally for sustainable equity funds.
Net inflows for the dedicated sustainable equity funds that we track set new records in 1Q20. Within the quarter, inflows peaked in February but stayed positive in March.
Within our universe, March inflows were strongest for passively-managed/quant funds, although active managers still posted solid activity for that same month.
An early analysis of U.S.-focused ESG-focused Exchange Traded Fund (ETF) flows reveal they are tracking well above February and March so far, and accelerating even higher for April.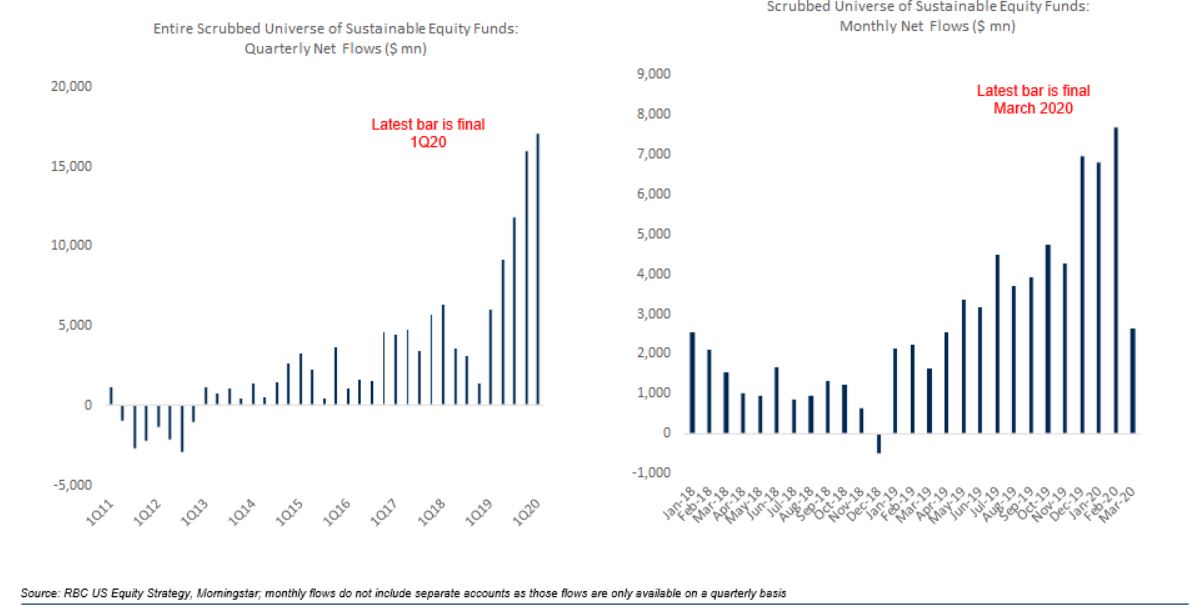 Closing thoughts
For years, many questioned whether ESG funds could withstand periods of market and economic upheaval. Our latest report not only proves that they can deliver, but that they can also weather these storms better than many of their traditional counterparts.
Certainly, we're experiencing an economic crisis like no other, and it's difficult to predict how it will unfold. Some believe that a full-blown coronavirus-led recession may finally scare investors away from sustainable and into more tried-and-true investment funds. For now, however, it looks like investors are giving them their vote of confidence.
Sara Mahaffy authored "The ESG Scoop: Reporting Season Themes Plus Updates on Sustainable Fund Flows & Holdings." For more information about the full report, please contact your RBC representative.
---
For Required Conflicts Disclosures, click here. These disclosures are also available by sending a written request to RBC Capital Markets Research Publishing, P.O. Box 50, 200 Bay Street, Royal Bank Plaza, 29th Floor, South Tower, Toronto, Ontario M5J 2W7 or sending an email to rbcinsight@rbccm.com.
---
Our Commitment to ESG
RBC Capital Markets' ESG StratifyTM encompasses all of our ESG thought leadership and insights, including our monthly ESG Scoop series and industry-specific publications from our research analysts. RBC's Equity Research Group delivers thorough, comprehensive assessments of companies spanning all major sectors, along with macro insights and stock-specific ideas to help guide portfolio management decisions.