Required Conflicts Disclosures
---
Last month, our heat sector map offered some interesting conclusions about where ESG matters: It revealed that ESG scores have mattered for performance and valuation premiums of all S&P 500 sectors in some way.
But our research now begs another important question: Which sectors show the most momentum, or year-to-year improvement in ESG risk scores?
To find out, we updated our map to account for the ESG Momentum Factor. Leveraging ESG momentum scores from Sustainalytics, we highlighted the sectors with the greatest improvements in ESG risk scores recently and where the ESG momentum factor has outperformed within sectors.
Here are the key takeaways from our report:
1.
Energy lights up the ESG heat map on Momentum
Across all S&P 500 sectors, Energy has seen the biggest improvement in risk scores recently, followed by Health Care, Materials, and Utilities. On the "down" side, the map reveals slightly deteriorating scores from both Financials and Communication Services.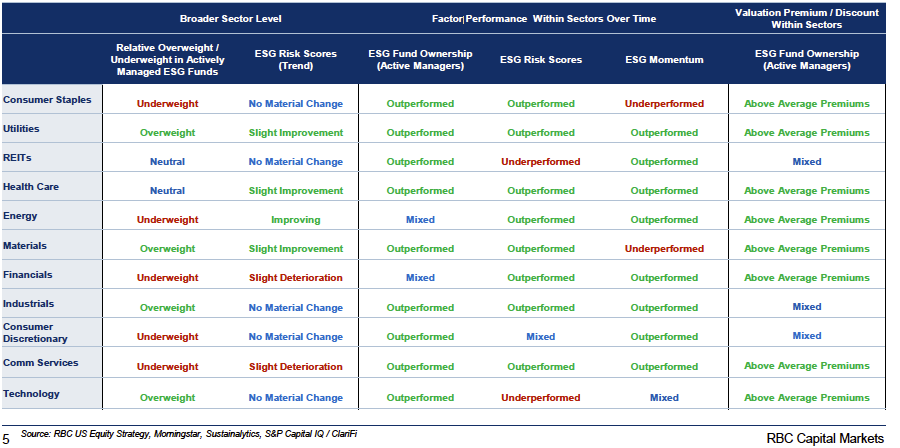 2.
The ESG Momentum Factor has outperformed within most sectors since late 2015
The ESG Momentum Factor (which looks at the year-to-year change in ESG risk scores, leveraging data from Sustainalytics) has outperformed within 8 of the 11 major GICS sectors since late 2015. Among sectors, Energy ranked highest, along with Industrials, and REITs.
More recently, the ESG Factor outperformed strongly from mid-February through mid-May. Performance fell back a bit for a short time, only to bounce back in mid-June.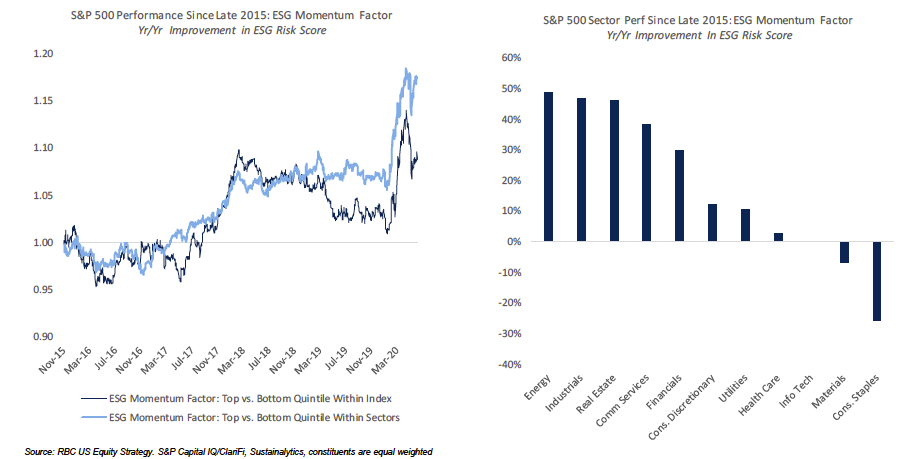 3.
Engagement and activism have helped to drive ESG improvement
Investor engagement and activism on ESG issues has been on the rise over time.
In 2015/2016, environmental and social activism largely targeted Energy and Utilities, but sector representation has broadened in recent years. Consumer Discretionary, Industrials, and Health Care have made up a higher proportion of campaigns relative to history.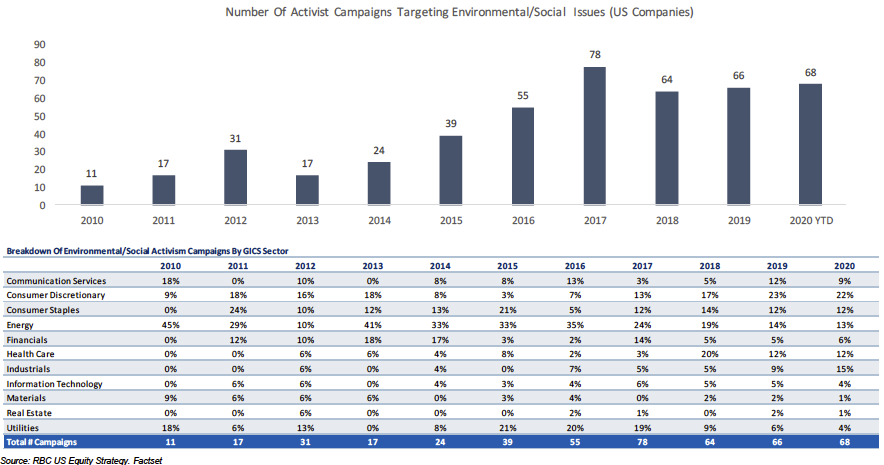 ESG: Moving from "nice-to-have" to "need-to-have"
Our latest heat map study not only concludes that ESG matters, but also shows that higher scores can lead to outperformance across most major sectors--even during the market's peak-to-trough. We believe this corporate commitment to sustainability can only increase, particularly as investors demand greater corporate transparency and stakeholder accountability amid the pandemic and social unrest.
Sara Mahaffy authored "The ESG Scoop: ESG Momentum." For more information about the full report, please contact your RBC representative.
Our Commitment to ESG
RBC Capital Markets' ESG StratifyTM encompasses all of our ESG thought leadership and insights, including our monthly ESG Scoop series and industry-specific publications from our research analysts. RBC's Equity Research Group delivers thorough, comprehensive assessments of companies spanning all major sectors, along with macro insights and stock-specific ideas to help guide portfolio management decisions.