Key Points:
Our research indicates that sustainable funds have increased exposure to certain parts of Healthcare, including Pharma & Biotech industries where ESG sentiment has been improving.
Valuations for S&P 500 ESG Darlings in Healthcare seem reasonable relative to history, while European names still appear elevated.
Net flows into Health & Wellbeing thematic funds have positively inflected recently.
---
The Healthcare sector has typically held slight overweight positions in sustainable funds, but primarily driven by the Life Sciences and Equipment & Services industries. Our latest research indicates some shifts in exposure with sustainable funds adding new exposures to the Pharma/Biotech subsector (an area where ESG sentiment has been improving), while selling certain names in Equipment & Services (an area we are seeing deteriorating sentiment readings).
Sustainable funds added exposure to certain parts of Healthcare in 2Q22
Healthcare has typically held slight overweight positions in US, European and global focused sustainable equity funds. At the industry level, this has been driven by both the Life Science Tools & Services and the HC Equipment & Supplies industries.
In 2Q22, we found that a number of new entrants to our S&P 500 ESG Darlings list came from the Healthcare sector. Healthcare was also heavily represented on our screen of names seeing the biggest increase in sustainable fund ownership during 2Q22, primarily from the Pharma/Biotech subsector. Meanwhile, sustainable fund managers sold some Equipment & Services names.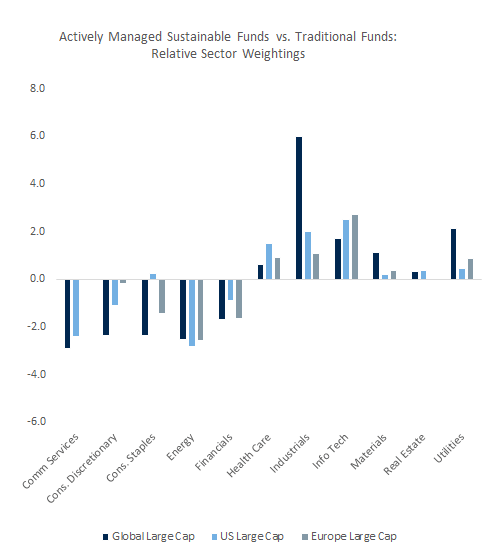 ESG sentiment for Pharma & Biotech is improving
Within the Healthcare sector, Life Sciences Tools & Services generally ranks highest on our ESG sentiment indicator, which tracks sentiment around company's ESG related news activity. Pharma & Biotech industries tend to rank lower in sentiment, with sentiment skewing negative, but scores have improved lately.
On the flip side, sentiment for the Equipment & Services industry has seen some deterioration in ESG sentiment, and trends for Providers & Services has stalled recently. Overall, news activity related to Product Quality & Safety, Access & Affordability, Business Ethics, and Competitive Behavior has been driving ESG sentiment for Healthcare.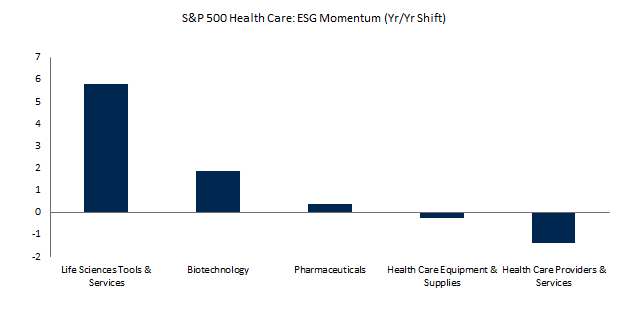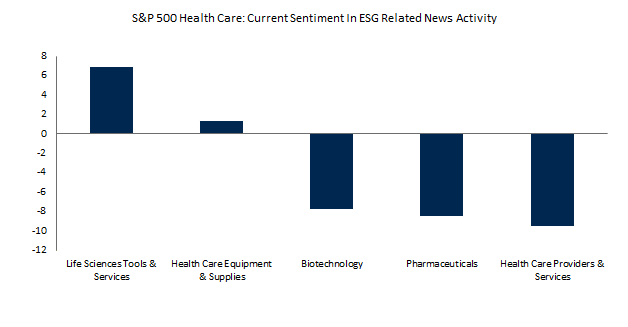 Valuations still appear reasonable for U.S. Healthcare ESG Darlings
Within most sectors, S&P 500 ESG Darlings tend to trade at valuation premiums to their sector peers on an FY2 P/E basis. But relative valuation trends can vary considerably by sector.
Relative valuations premiums for US Healthcare ESG Darlings still look reasonable relative to recent history, but relative valuations for European ESG Darlings appear elevated.
Health & Wellbeing Fund flows begin to pick up again
The pandemic highlighted companies with products and services that support health and wellness. As a result, net flows into Health & Wellness thematic funds picked up meaningfully, only to gradually fade and drop significantly in late 2021/early 2022.
Although flows are still tracking well below past highs, recent updates have shown that monthly net flows into these funds have started to turn positive again.
---
Our Commitment to ESG
ESG Stratify™ encompasses all of RBC Capital Markets' ESG thought leadership and insights, including our monthly ESG Scoop series and industry-specific publications from our research analysts. RBC's Equity Research Group delivers thorough, comprehensive assessments of companies spanning all major sectors, along with macro insights and stock-specific ideas to help guide portfolio management decisions.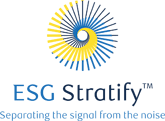 ---
Sara Mahaffy authored "ESG Sector Snapshot for Healthcare," published on October 12 2022. For more information about the full report, please contact your RBC representative.
---