Key Points
The economic path to recovery from the pandemic isn't linear, but consumer spending is in good shape underneath it all.
Brands will need to work harder to show the value they bring to the transaction experience if they want to be visible at the point of sale.
The use of usernames, passwords and pins to safeguard consumer transactions will soon become relics of the past.
Central Bank Digital Currencies will become part of the payments landscape over the next few years.
---
In an exclusive conversation at this year's #RBCFI2021 conference, Ajay shares his insights on leading Mastercard in a post-pandemic world, the evolution of the world of payments and the challenges of a creating a more secure eco-system in an era of accelerated change that has made even the boldest of CEOs question their assumptions. To re-watch the full session, please click here.
To read the highlights from the session, please see below.
Dave McKay
Ajay, if we look back at your history at Mastercard over the last 11 years, revenue has tripled, profits have quadrupled, and the share price is up fifteen-fold. Looking at all of the transformation, value-creation and innovation that you've led, how do you feel about where things are right now, almost a full year into the pandemic?
Ajay Banga
I remember sitting down a year ago with Michael Miebach, who at that time was CEO elect of Mastercard, to define the different phases of the pandemic that we would need to run the company through.
The first phase was containment, which meant putting the brakes on everything. The next phases were stabilization and normalization, albeit in inverted commas because we knew daily life would still be far from normal. And the final phase was a return to growth, which could only happen when vaccines were freely and equitably distributed.
We recognized that we would need to work through all of those phases, but of course it's not been linear. It's still moving back and forth at different levels, daily and globally.
But I do think there's a reasonably healthy consumer under it all. Despite the K-shaped recovery, consumer spending seems to be in decent shape domestically. I also think fiscal stimulus from governments and central banks has done a good job of creating a safety net for the economy.
Clearly, physical cross-border commerce has gone. But by necessity, many merchants have figured out how to go omni-channel. Some haven't, but others have successfully evolved.
Dave McKay
Let's talk about the evolution of payments at Mastercard under your leadership. How did you adapt the company's strategy to be so well positioned for today's structural changes?"
Ajay Banga
The profile of our revenue mix has certainly adjusted and adapted. Ten years ago, a small proportion of our revenue came from services like data analytics, AI and cyber-security. Now it's nearly a third of our revenue.
Similarly, B2B payments used to be a single digit part of our revenue. It's now in double digits with scope for growth with the capabilities we're building around multi-rail payments.
A lot has changed and looking ahead there are three things that will continue to redefine the payments landscape. The first is an increasing regulatory interest in the entire payments eco-system, as governments realize payment digitization is an excellent way to improve their own revenue streams and the transparency of their economies.
The second is the impact of connected devices from the Internet of Things on payment security. Right now, your mobile phone is relatively secure, but when you start to connect a fridge or a music system to it, you're connecting unsecure devices that will create new vectors of attack.
The third is the amount of new payment technologies that are emerging, from instant payments to crypto-currencies, which will bring more players and more platforms into the payments eco-system.
Dave McKay
One of the concerns we have regarding the impact of platforms on payments is brand. Historically, customers would look at their credit cards to make payments and my brand and your brand would both get a value proposition reinforcement. Now, with digital platforms, our brands are far less visible payment vehicles. Do you think about that and how to maintain your brand presence?
Ajay Banga
All of the time. In fact, a lot of the technology we're working on has been to ensure the consumer knows which institution they have a relationship with. Truly, the institution is you as the bank, not me. It's you who decides whether they get my branded card or someone else's.
So, we have to respect that the consumer came to you. We need to make sure your brand doesn't get lost in the process of making transactions frictionless. Because we know consumers take faith from those brand connections.
That's a shifting target with some digital players and platforms. Ultimately, it depends on whether you and your brand bring value to the experience. If you do, they will show your brand. If you don't, they will obfuscate it. Our task is to continually show the value we bring to the transaction. That's what makes our brands valuable at the point of sale.
Dave McKay
We're also seeing social media platforms evolve and embrace much more expansive value creation strategies. And we're seeing payments pulled into that world because the data around what a customer actually does is a key part of the value equation. In our industry, we know exactly what they did, but we don't know what drove that decision. How do you think that value equation might evolve over time?
Ajay Banga
It's a great question. Different players in the payments value chain are playing different roles. I do think the power dynamic of how the economics are shared will change as the roles played by different players wax and wane. That's just reality.
The value we all bring will determine how the economics get shared. But ultimately, we're all in this together. And if we can reach more consumers in a way that's better for them, then that's good for the industry and for society.
Dave McKay
I know how important that is for both of us, recognizing the opportunities that come from finding better ways to serve customers. What we're both also adjusting too is how those moments of transactional truth are shifting into someone else's eco-system. We could build the best digital bank in the world, but we also have to be plugged into where those moments of truth are moving too. That requires partnerships.
Ajay Banga
There's another interesting angle to this which I tell everyone in my company. No consumer wakes up in the morning dying to make a payment. They just want safe, smart, simple ways to transact. So, if you want to play a greater role in the value chain, you need to bring something new and valuable to that equation.
Dave McKay
Let's talk about some of those new innovations. Where have you invested in new technologies and where are they taking us?
Ajay Banga
For the company itself, we're investing in three key areas. Firstly, protecting our cyber-resiliency and reliability. Secondly, moving computing power to the edge of the network, particularly with the advent of 5G. And thirdly, investing in open APIs so that institutions can connect with us in easier ways.
For the external marketplace, one of our biggest investments is in multi-rail choices – guard rail, instant payment rail or blockchain enabled rail – through an open API that puts you in the driver seat of offering choice to your clients, so you can price and control different features and benefits to any premium.
Another key area of investment is around data and privacy to prevent cyber-attacks. Digital identity is connected to that. The idea of a universal digital identity that gives citizens their privacy back is another significant area of investment for us.
Dave McKay
From the conversations I'm having with CEOs of other banks, it feels like the risks are closing in around data and privacy. How do we cyber-protect all of this?
Ajay Banga
There are few things worth talking about. The first involves greater collaboration between governments and the private sector, because the threat factors in this space tend to come more from nation states than cyber criminals.
The second focuses on ways to certify connected devices to let consumers know which ones are the most secure, creating some kind of 'A+' certificate that measures cyber-resiliency.
The third is recognizing that consumers need better forms of authentication than usernames and passwords, such as biometric identification, to protect their security, privacy and citizenry.
Dave McKay
I'm sure we've both been asked as CEOs if we're launching a digital currency. How do you see the future of digital currencies playing out?
Ajay Banga
On one end of the spectrum, I think of cryptocurrencies like BitCoin which have a series of interesting problems – volatility, a lack of transparency and protection for consumers – as a currency, nevermind as an asset class, to overcome.
At the other end of the spectrum, I think of Central Bank Digital Currencies (CBDCs), which a significant number of countries are now experimenting with.
My own take is that CBDCs will become part of the payments landscape over the next few years. We've launched a sandbox to help central banks and commercial banks connect and work together on this.
I believe some form of two-tier payment system where central banks provide the digital currency and commercial banks provide the consumer connectivity, is going to come.
As a company, we hold the largest patents granted in the CBDC space. I believe you ignore this at your peril.
Dave McKay
A final question. Can you think of the most important leadership lesson you've learned through this amazing journey you've been on?
Ajay Banga
I really think you need to bring your heart and your mind to work. I'm Sikh and in the Sikh religion, one of the most important sayings is that you reward yourself by serving others. I think that's a very good lesson to bring to your business environment.
Featured Guest: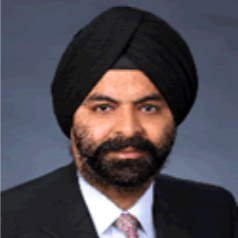 Ajay Banga
Executive Chairman
Mastercard Worldwide