Key Points
Amazon is driving unprecedented efficiencies in healthcare though partnerships and acquisitions
CVS Health is focusing on a customer-centric approach to healthcare
Google's vast resources make it well-positioned across multiple healthcare touchpoints
The Improved Efficiencies of Amazon Healthcare
As the big four tech companies accelerate into the healthcare space, Amazon is not-so-quietly emerging as the leading disruptive force.
In just a few years, the e-commerce giant has made major strides in healthcare through a series of partnerships, new launches and acquisitions.
In 2018, Amazon bought online pharmacy startup PillPack for approximately $750 million. The move appears to have offered a glimpse into Amazon's strategy to be a full-service pharmacy that organizes, packages and delivers medications.
Accenture and Merck announced they are partnering with Amazon Web Service to launch a data-driven drug development platform designed to improve productivity.
A deal was initiated with Xealth, a digital prescribing and analytics platform that enables physicians to recommend medical product bundles at the hospital that would then be delivered to patients' homes upon discharge.
In partnership with Change Healthcare, Amazon is developing a new cloud-based claims and payments network for payers and providers.
Amazon announced a joint venture with Berkshire Hathaway and J.P. Morgan named Haven. The partnership was formed to tackle rising healthcare costs in the U.S. especially for the chronically ill.
In totality, Amazon's investments in healthcare are broad in scope but laser-focused on innovations that improve efficiencies.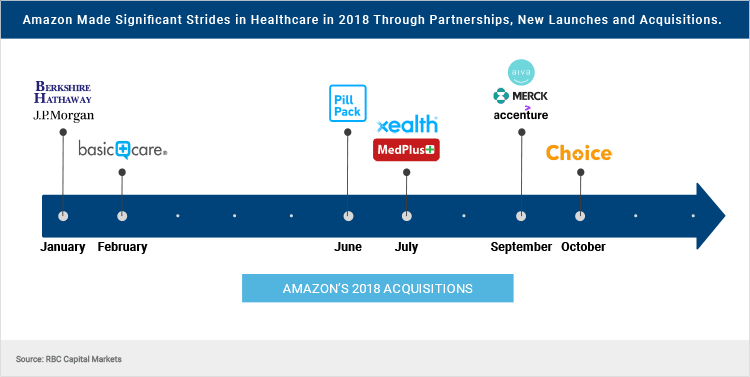 The Customer-First Approach of CVS Health
Unquestionably, Amazon's ambitions are far-reaching. But just how far? Many of the traditional healthcare players aren't waiting to find out.
Following its $69 billion merger with Aetna, CVS Health has undertaken its own closely-watched digital health and wellness transformation effort.
By leveraging its newfound mountain of data, CVS Health hopes to create a holistic view of the customer, determine how to best communicate with the customer, and improve clinical outcomes.
Perhaps its most ambitious initiative is the transformation of hundreds of CVS drugstores into HealthHUBs.
Billed as "your neighborhood place for wellness," and offering an expanded range of health services for everyday care and chronic conditions, the HealthHub ecosystem uses analytics to create a consumer-centric approach to medical cost management, customer retention and acquisition, and lifetime value generation.
CVS Health is quickly making moves to retain long-term customers. It partnered with Novo Nordisk to launch Reduced Rx, a prescription medication program that provides customers personalized offers and savings. In collaboration with Shipt, CVS Health now offers same-day, on-demand prescription delivery.
Similar to this
The Next-Gen Clinic of Google
Through a series of in-house launches, strategic partnerships, and acquisitions, Google has already assembled many of the ingredients necessary to launch a complete next-generation clinic.
Google's investments in digital health have largely been via four of its subsidiaries: Calico, a biotechnology company focused on developing therapies to address health and longevity; DeepMind, artificial intelligence; GV, Google Ventures; and Verily, which develops tools and devices to collect, organize, and activate health data.
Its four-pronged approach involves data generation, using AI for disease detection, disease/lifestyle management and investing in early-stage, mostly private biotech companies.
In 2019, Google acquired Fitbit for $2.1 billion with the goal of using its platform to accelerate innovation in the wearables category, scale faster, and establish the company as a leader in digital health. By leveraging its machine learning capabilities and predictive algorithms, Google hopes to help manage chronic conditions such as diabetes and hypertension.
Google is positioned well across the many healthcare touchpoints along a patient's journey. It continues to invest heavily in digital startups to build out its next-gen healthcare model.
Onduo is a joint venture from Verily and Sanofi created as a virtual clinic for patients to help control diabetes. OneFifteen is a data-driven physical campus dedicated to all facets of opioid abuse treatment and recovery. OneBraveIdea is a research project that uses genomics and phenotyping in clinical care to solve coronary heart disease. Apigee is an application programming interface to reduce risks during care transitions and empower collaboration between patients, physicians and healthcare providers. Verb Surgical is a digital surgery platform that combines robotics, advanced visualization and instrumentation, data analytics, and connectivity.
Google's many healthcare offerings are designed to operate seamlessly across Google's platforms. GSuite provides clinical workflow tools and storage of patient data in a HIPAA-compliant repository. Google for Retail provides accurate pharmaceutical product information, price and availability. As hospitals and healthcare providers make the digital transformation, the more customers accustomed to Google the more difficult it will be for other healthcare companies and platforms to gain a foothold in certain segments.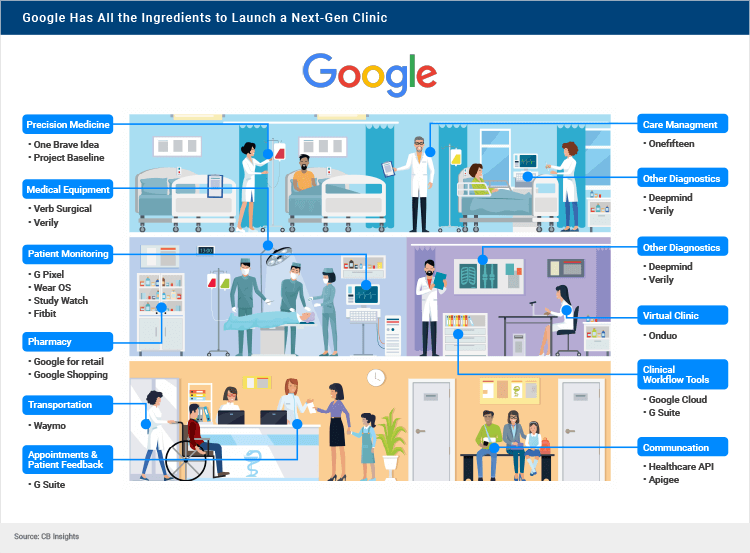 Ultimately, the question remains: can legacy players like CVS succeed at digital transformation? Or will deep pockets and grand ambitions enable tech giants like Amazon and Google to dominate healthcare? Given the whirlwind of change in the sector, this will continue to be a battleground for some time to come.