By Brad Erickson
Published September 2, 2022 | 3 min read
Key Points
Companies from every industry are investing significant capital to compete in the 'avatar' economy of the metaverse.
During the first five months of 2022, corporations, private equity and venture capital firms invested $120 billion in metaverse-related opportunities.
Some observers predict the metaverse will generate trillions per year by 2030, with a GDP that could eventually exceed the physical world.
Achieving that potential is expected to require massive investment in an ultra-resilient, low latency network and a multitude of augmented reality devices.
Ready or not, the metaverse is coming. The race is on to take people beyond the real world to an immersive virtual reality, enhanced by augmented technologies, where users can create avatars of themselves to meet, play, shop and work.
In the near future, these 'mirror avatars' should be able to purchase both real and digital goods in virtual malls, buy digital land to build virtual homes, collect digital art, participate in virtual social experiences, use virtual classrooms to learn and access virtual medical care to improve their health and wellbeing. They are also expected to interact virtually with their employers in augmented workspaces, connecting with colleagues, clients and suppliers – all through the metaverse.
Almost any real-world activity that you can think of could be replicated in the metaverse, and almost every industry is taking a hard look at what this new digital frontier will mean for their sector.
"The possibilities of the metaverse seem endless, but the contours of a potentially new multi-trillion-dollar 'avatar economy' are beginning to form."

Brad Erickson
Internet Analyst, RBC Capital Markets
Real capital, virtual world
Some of the largest companies in the world are busy preparing for a new era of immersive virtual interaction. According to research from McKinsey released earlier this year, corporations, along with private equity and venture capital firms, invested $120 billion in metaverse-related opportunities during the first five months of 2022.
The adoption of metaverse technologies may still be at an early stage, but things are moving quickly. Some observers predict the metaverse could generate trillions of dollars per year, from potentially billions of users, by 2030. Others predict the GDP of the metaverse will eventually exceed that of the physical world.
Understandably, the metaverse is starting to shape the real-life ambitions of the world's leading brands. However, reaching that multi-trillion-dollar market level may require significant capital investment in a multitude of augmented reality devices which would also require seamless connectivity in order to render real-time, life-like interactions. That in turn could create a massive demand for ultra-resilient, low latency network infrastructure and ever more complex AI/machine learning interfaces.
Navigating the metaverse
While there is still a long way to go before its full potential can be realized, the metaverse landscape is starting to take shape and should provide new opportunities for companies and investors alike. So, how could companies and investors generate a return on investment, and how quickly? Who might create value at this virtual intersection of corporates, creators and consumers?
The possibilities may seem endless, but the contours of a potentially new multi-trillion-dollar 'avatar economy' are beginning to form. As the boundaries between virtual and real life become increasingly blurred, there are prospective metaverse applications across wide spectrum of use cases.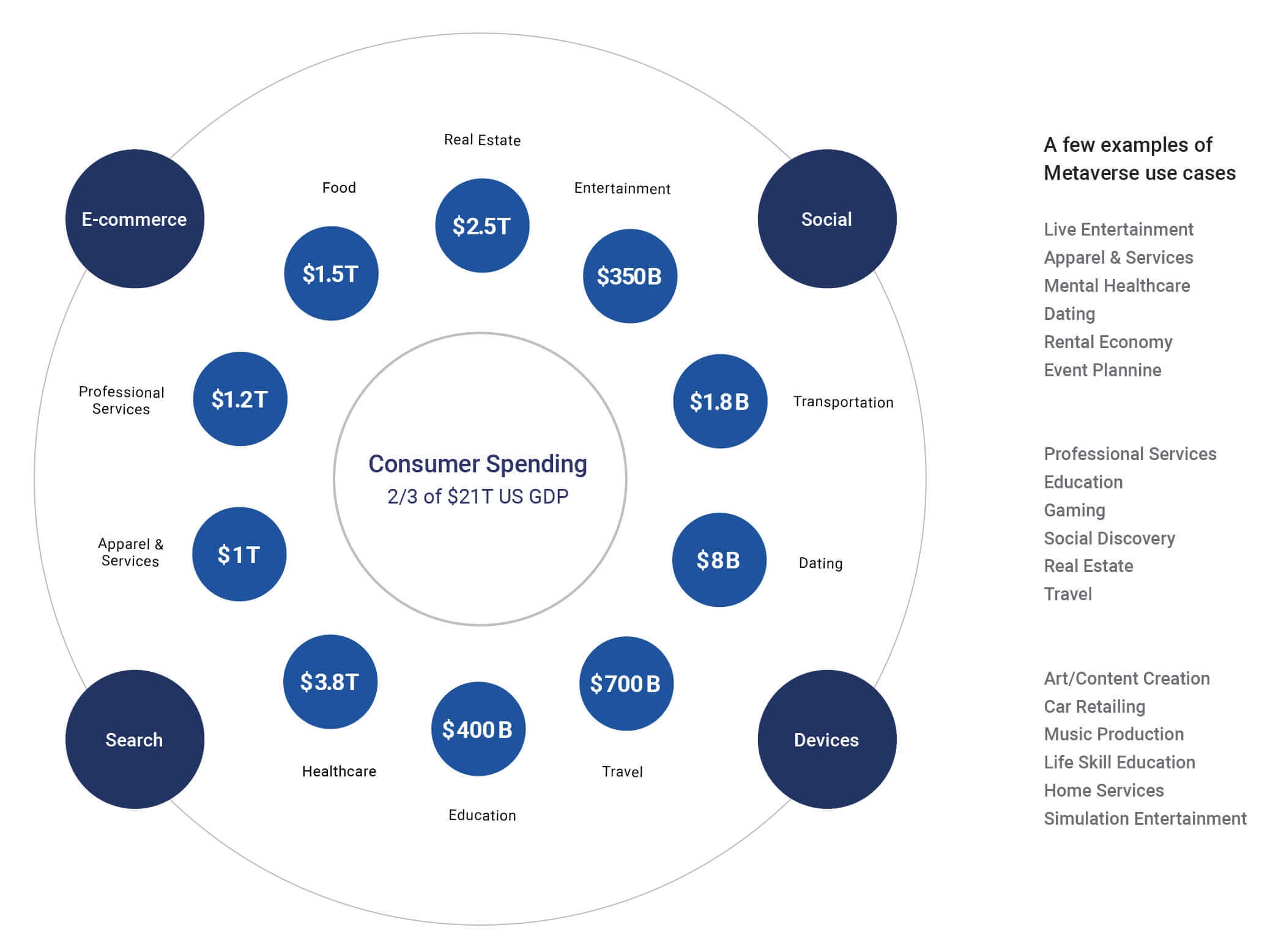 Source: Company reports, U.S. Census Bureau, UStravel.org, RBC Capital Markets estimates
In many of these use cases, the metaverse is likely to build on established trends. In real estate, for example, gamers have traded digital property for years. Now, fueled by the growth of non-fungible tokens (NFTs), pixelated-property prices are rising dramatically, with investors paying real currency to develop on virtual land across the metaverse.
A metaverse monopoly
As more and more organizations pursue their metaverse strategies, a key debate is the notion that this new virtual frontier could be monopolized by a few ecosystem providers. The potential for infrastructure, hardware, software and applications partnerships is enormous. However, in line with prior generations of internet value creation, benefits may accrue to companies pursuing some iteration of the "walled gardens" model and the rapid formation of "competitive moats" which could be difficult to overcome.
The "walled garden" approach should bring significant structural advantages. The metaverse won't be a single entity, but a multiverse of moments and experiences. Broader ecosystem control may lead to tighter integration between hardware and software to enable more cohesive user experiences. The existing possession of the largest audiences could also provide tailwinds to metaverse adoption, given that any open-source consortium may encounter initial platform discord that could slow the pace of innovation and update. The ability to securely tie data from existing platforms, such as search and social, should also favor incumbents.
Moderating the metaverse
Data will be critical. The metaverse is expected to rely on personal biometric data to survive and thrive, creating a new commodity to protect and monetize. To function commercially, the metaverse will need regulations and controls to protect users. The architects of this new frontier will need to create ethical, safe and inclusive experiences that deliver data privacy, security and control. New codes of conduct may also be required to meet rising consumer expectations around fairness, transparency and sustainability.
As users work to find their place in the metaverse, their future needs and behaviors should evolve and become more complex and unique. The potential to transform society in unpredictable ways may only accelerate, unlocking further volumes of value unknown to consumers, companies and investors alike.
It's difficult to predict exactly what the metaverse will look like, but one thing is certain – every industry and sector may be on the cusp of a multifaceted transformation which will expand its possibilities far beyond what we know today. Every organization needs to be ready for a new world of virtual opportunities.
RBC Imagine™ is a global research initiative that helps you see the change drivers of tomorrow to sharpen your business thinking today. This unique platform uncovers transformational trends that will reshape our world, pinpointing their impact on key industries. Learn more with our signature report, Preparing for Hyperdrive.