Coronavirus and its impact on M&A
The unprecedented and widespread nature of the coronavirus pandemic and its inherent unpredictability will continue to loom large in any M&A decision for the foreseeable future.
In general, existing M&A processes that are less impacted by the market are proceeding forward. But deals for targets in industries meaningfully impacted are getting delayed as both buyers and sellers assess the ultimate impact on financial performance ( see our article on the impact of coronavirus on M&A).
Timing scenarios and the impact of the US Election on M&A
Before the outbreak, we had been forecasting a pause in deal activity as we approached the US election season.
It's likely to be a hotly contested election. Compared to previous years, we have a wide variation of possible policies in areas like antitrust, corporate taxation and regulatory policies.
And if we consider the themes of the campaign to date – climate change, regulation in the energy sector, a ban on fracking, healthcare, concerns on the impact of tech and e-commerce – we have a big section of the economy which is becoming politicized.
The outcome of the election will have a differing impact on private companies and public ones, the latter of which might come under greater legal scrutiny. Corporates are unlikely to want to bring a large deal to market, especially if it has a regulatory concern to it, as the election gets closer.
Post-outbreak, the election adds additional uncertainty to future outlooks. As companies continue to factor in the length and impact of a downturn, or the continuing dislocation in the oil market, boards are also wondering what could happen if corporate taxes go up 5 or 10% under a new administration. This will only reinforce conservatism around deal making.
"Given the near-term hiatus from coronavirus and the approaching November election, a deal window might emerge in the second half of 2020."
- Larry Grafstein
Timing
We definitely see demand for deals. There are a lot of strong conditions on the side-lines, whether it's cash available to do transactions or assets that corporates have been looking to divest. Private Equity (PE) firms have been holding companies for longer than they would traditionally and will be look for more opportunities to capitalize on these investments.
It's a question of where that demand gets pushed out to. The impending election, and the possibility that the coronavirus could return next winter, means that a window might emerge in the second half of 2020 to complete deals that people want to get done before year-end.
Conditions in the leveraged finance markets, obviously unsettled by the coronavirus, will also affect the ability of private equity firms to deploy their considerable dry powder (though they continue to look at structured opportunities such as Private Investment in Public Equity, or PIPEs, that do not rely on the debt markets).
As soon as there is some settling, we think the M&A markets are probably going to lead activity rather than the equity markets.
It's also worth considering that historically, some of the best deals often get done after a period of volatility but before the economy fully recovers. Those deals tend to have the most strategic logic and impact.
What is the outlook for European deals?
At the start of the year, the one area of deal activity we expected to potentially do better than expected was in Europe.
Last year, we had seen a lag in European activity. In the first half of 2019, European deals were 60% off. There was a resurgence in the second half, but volumes still ended 24.8% down for the year.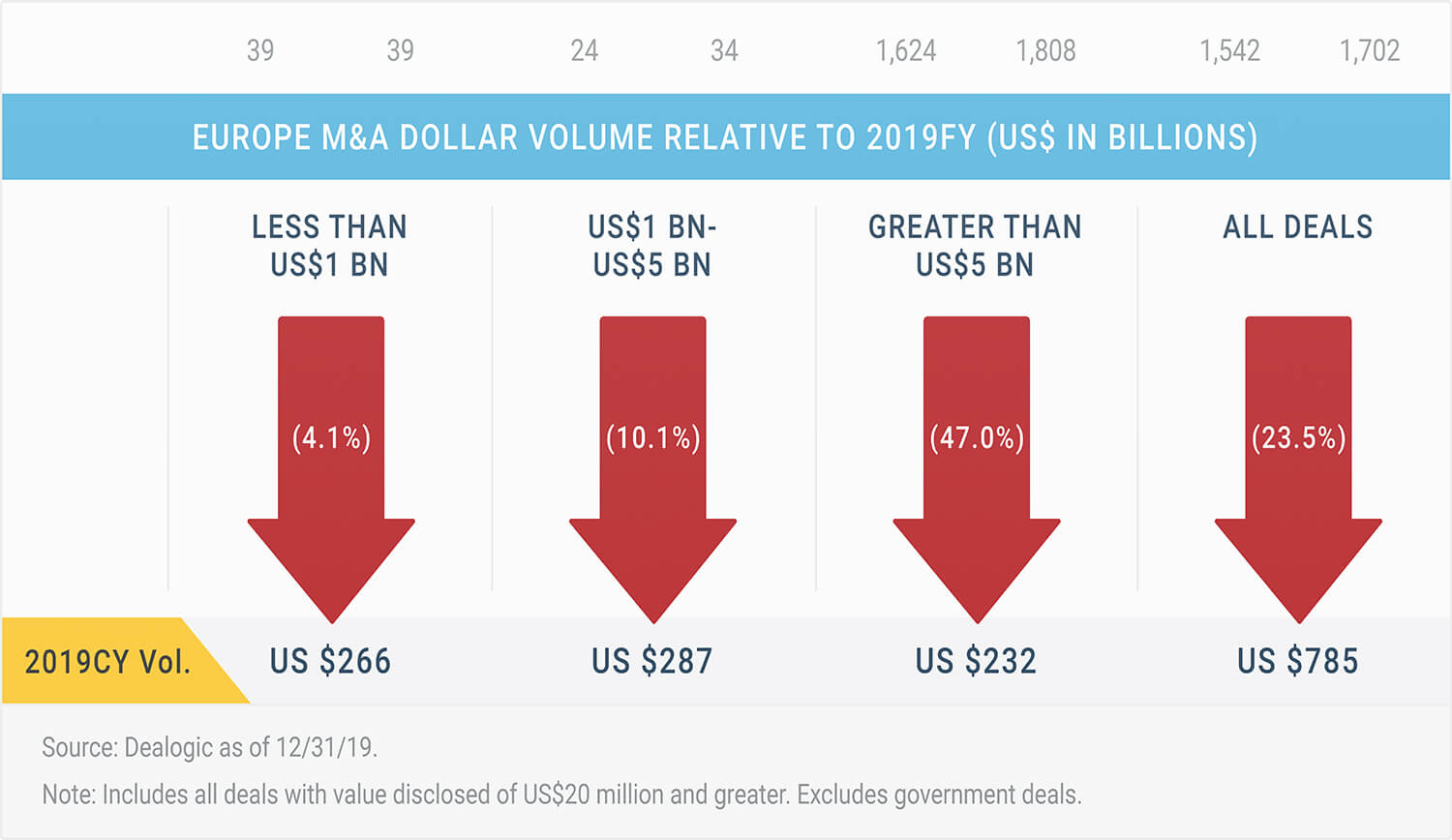 Prior to the coronavirus outbreak, we expected to see more UK deals as Brexit uncertainty drifted away. We also saw an opportunity for PE firms to put money to work in Europe since Brexit uncertainty had dampened valuations, offering opportunities to buy at lower multiples.
However, post-outbreak, European deal levels remain in question. We saw Advent and their partners buy the elevator business of Thyssenkrupp for $19 billion, but generally European activity could be subject to yet another shock.
If that happens, it's unfortunate, but it should result in yet more demand for future years.
"Post-outbreak, European deal levels remain in question."
- Larry Grafstein
The impact on China and global supply chains
China saw the first wave impacts from coronavirus, and any company with exposure to a supply chain in China was hit, particularly in sectors like pharma that are heavily dependent on manufacturing there.
We are now seeing some of that comeback. There's some news and data that China is going to come back online quicker than expected, which is going to be positive.
Longer term, there's likely to be a rethinking in certain industries of an over-dependence on just one or two geographies for their supply chain.
We had previously seen geopolitical tensions cause a number of corporates to rethink whether their supply base was too concentrated. Some had started to make that move and ensure they had diversification and resilience built into their supply chain and manufacturing bases. Those that did so have found themselves in a better position today. It's likely that others are going to have to play some catch-up in this respect.
Trade tensions muted cross border activity
Last year, trade tensions had a negative impact on M&A, with a 13% drop in cross-border deal volume. While the issue of trade may take a back seat temporarily as governments around the world battle the pandemic, we expect it will reemerge in both new and familiar ways post-outbreak.
The election has a potential impact on foreign investment into the US. There's been a significant change of policy which extends the scope of review by the Committee on Foreign Investments, and the new Foreign Investment Risk Review Modernization Act which extends oversight beyond national security domains to include critical technology infrastructure.
For US companies, historically 85% of transactions are US-US and we don't see that trend changing despite anticipated lower volumes due to global impact of coronavirus.
Published March 26, 2020