Coronavirus: The potential impacts on M&A
The uncertain but widespread impact of coronavirus has led to an understandable slowdown in deal activity in certain sectors. Beyond the impact on short term confidence, the question remains whether it tips us in to a global recession (see our article on coronavirus).
US Elections: How might a polarized election impact M&A?
Long term we expect a normalization in deal activity but as the impact of coronavirus merges with election season we could see a pause in deal activity.
As we approach November, regardless of what the polls show or who the nominees are, it will be a brave person who takes a definitive position on how the election will go.
Compared to previous elections, we have a wide variation of possible policies in areas like antitrust, corporate tax, and regulatory policies. We think that could slow activity as we get closer to the election.
And if we consider the themes of the campaign – climate change regulation in the energy sector, a ban on fracking, healthcare, and concerns on the impact of tech and e-commerce – we have a big section of the economy which is becoming politicized.
What's the potential impact on M&A?
The upcoming election will have a differing impact on private companies and public ones which might come under greater legal scrutiny.
The tax environment is favorable at the moment but that may change. As we entered the year, multiples were at historic highs, and there was a lot of secular demand with cash ready to buy.
As we get closer to November, corporates won't necessarily want to bring a large deal to market, especially if it has a regulatory concern to it or if there's a significant financing component that requires the markets to back them.
However, given the near-term hiatus caused by coronavirus, we believe a window might emerge in the second half of 2020 to complete deals that people want to get done before year-end.
Private Equity (PE) firms have been holding companies longer than they would traditionally, and some of the tech unicorns did not hit the market as favorably as hoped. However, these companies can't stay private forever.
The election also has a potential impact on foreign investment into the US. There's been a significant change of policy which has extended the scope of review by the Committee on Foreign Investments (CFIUS), and the new Foreign Investment Risk Review Modernization Act of 2018 (FIRRMA) has also extended oversight beyond national security domains to include critical technology infrastructure.
Will a post-Brexit Europe catch up on deal volume?
At the start of the year, the one area of deal activity we expected to potentially do better this year was in Europe.
We'd seen a lag in European activity. In the first half of 2019, European deals were 60% off. There was a resurgence in the second half, but volumes still ended 23.5% down for the year.
Negative interest rates have established themselves in the EU. We've seen how low rates persisted in Japan, and there's now trillions of dollars of debt that's negative yielding.
There is also an added government preferment of de-facto 'national champions' in Europe, which gives another level of scrutiny to deals, but companies have adjusted to this reality.
"Given the near-term hiatus from coronavirus and the approaching November election, a deal window might emerge in the second half of 2020."
- Larry Grafstein
Brexit impact
So far, smart companies have been hedging bets and preparing for a range of outcomes. We expect to see more UK deals as Brexit uncertainty drifts away. In fact, there is perhaps less dispersion of policy on Brexit than there is between parties in the US election.
Pre-coronavirus, we saw a strong opportunity for PE firms to put money to work in Europe. Brexit uncertainty had dampened valuations. If we compared the S&P500 with UK and European markets, PE firms could buy at lower multiples. We're expecting a shift in that direction with Europe increasing its share of M&A volume.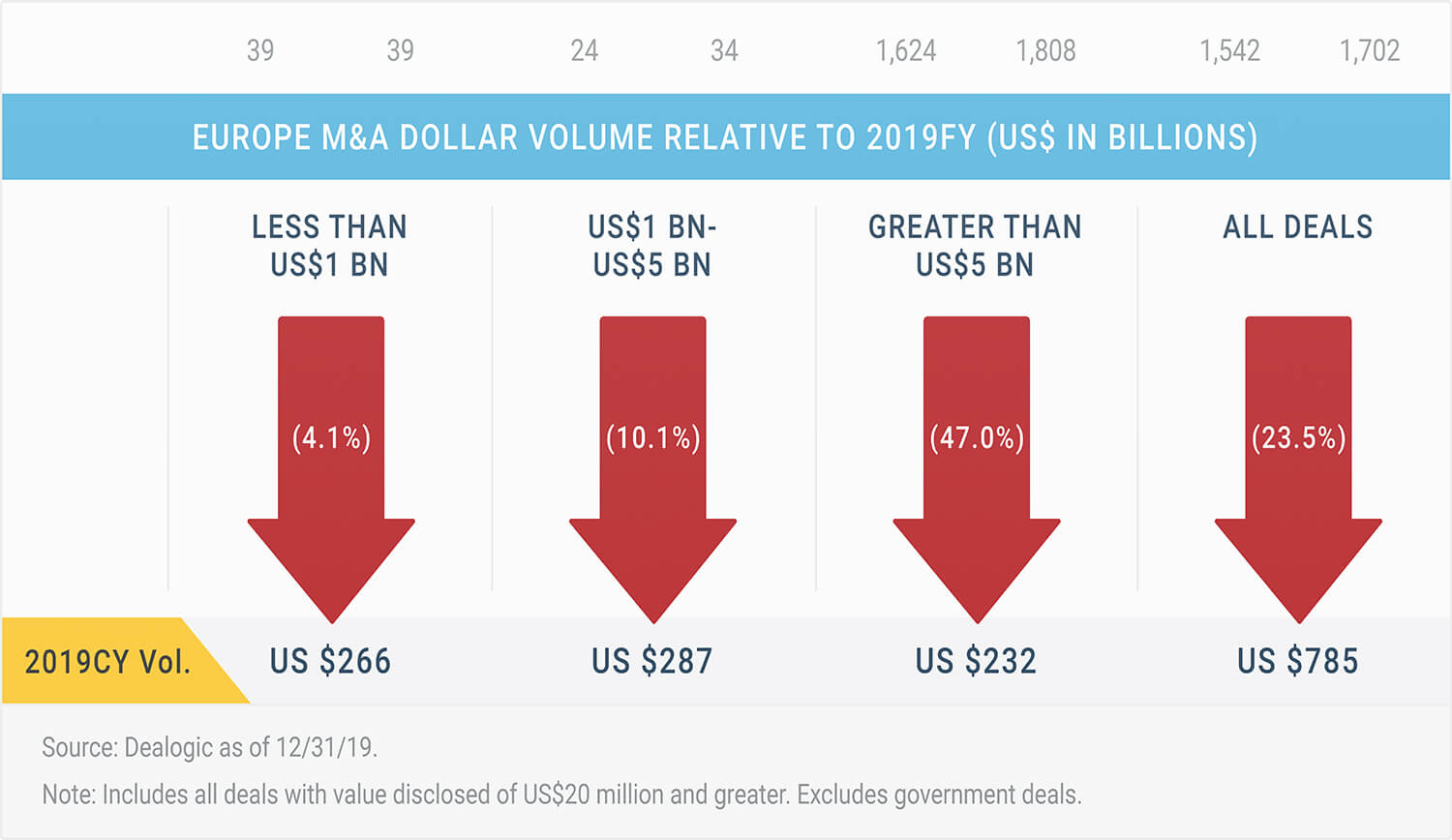 Asia complexity
Asia is a more complicated deal environment with great variation across individual markets.
China has clearly seen the first wave impacts from coronavirus and beyond this, firms are likely to rethink their dependence on China for their supply chain and certain key inputs.
Japan previously had a good resurgence and companies will continue to look for growth outside of their very low growth domestic market.
Trade tensions muted cross-border activity
Trade tensions had a negative impact, with a 13% drop in cross-border deal volume. However, there's now a better understanding of what the regulatory environment is going to be and we expect increasing investment out of Europe into the US.
On the European front, there's the potential for trade tensions to bubble up. Tech companies know they have to be in front of the regulators more actively and they're positioning themselves appropriately.
On tariffs, there is a lot of political rhetoric, but corporates are justified in asking if it's a smokescreen. If we look back to 2017 and how the Trump administration's pronouncements on tariffs on Mexican goods actually turned out, companies may feel they know how to manage and react appropriately to future news.
For US companies, historically 85% of transactions are done with another US-based company. Last year, domestic US volume was at record levels and we don't see that changing. Globally, we expect to see a pick-up in divestitures.
But beyond geopolitics and macro uncertainty, M&A is driven longer term by companies reacting to the c transforming their industry.
Published March 16, 2020