Published March 30, 2023 | 2 min watch
Key Points
Despite markets being roiled by the SVB collapse and the shotgun union between Credit Suisse and UBS, the mood was quite upbeat at the 12th annual FT Commodities Global Summit in Lausanne.
Whilst optimistic outlook, these do not seem predicated on any geopolitical shocks beyond what has already occurred as a result of the Russia-Ukraine conflict.
Participants questioned whether the Iranian nuclear program had really advanced beyond the point in 2012
While the world's leading traders walked back their blockbuster Brent forecasts as a result of the latest macro melee, they still downplayed the risk of physical contagion from the banking crisis and predicted a much better back half of the year due to the strength of the Chinese reopening and supply-side constraints. Trafigura's highly regarded chief economist, Saad Rahim, insisted that his firm is seeing clear signs of a Chinese demand recovery based on their extensive in-country contacts and suggested that too many analysts are overly fixated on daily and weekly fluctuations, and missing "the forest for the trees."
Multiple Speakers also pointed to a potential slowing of shale growth because of this latest pullback in West Texas Intermediate (WTI) prices. That said, a number of participants conceded that there could be more macro turbulence in the coming weeks, but the consensus was that the outlook for oil would materially improve come summer.
The redirection of Russian oil and products flows was also a major conversation piece at the three-day conference.
Several speakers highlighted the rising freight costs entailed in the rerouted trade as well as the transparency, safety, and environmental risks posed by Russia's increasing reliance on a dark fleet of tankers and a shadowy group of service providers to move their cargoes to far-flung destinations. In addition, several well-placed industry experts predicted on the sidelines of the event that Russian output would trend downward as a result of the EU embargo/G7 price caps and the sanctions that prevent the country from accessing Western financing and critical equipment from companies such as Caterpillar.
Figure 1 – Russia Seaborne Crude Exports to Asia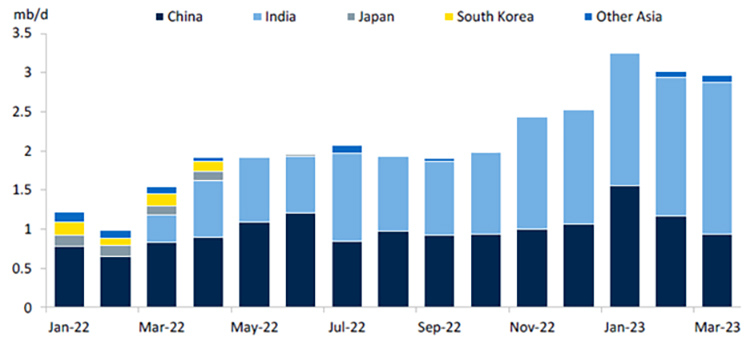 Source: Petro-Logistics, RBC Capital Markets
It is noteworthy that these optimistic 2H'23 oil scenarios do not seem predicated on any geopolitical shocks beyond what has already occurred as a result of the Russia-Ukraine conflict.
Having been burned by making Russian supply disruptions the basis of outsized oil calls, there appears to be serious reticence about contemplating any additional geopolitically driven supply outages or security scares that could spook the market. Hence, we were amongst the only ones on the main stage to highlight the risks posed by Iran's nuclear advances—such as the potential tightening of US energy sanctions and Israeli military action—in spite of the recent rapprochement between Riyadh and Tehran.
During the breaks, some conference participants questioned whether the Iranian nuclear program had really advanced beyond the point in 2012 when Israeli Prime Minister Benjamin Netanyahu displayed his infamous red line bomb picture during his UN General Assembly speech.
Such skepticism endures despite IAEA Director Rafael Mariano Grossi's January testimony that Iran possessed enough fissile material for several bombs and that it had blown well past Benjamin Netanyahu's UN thick red line. Nevertheless, in a market far more worried by Powell than Putin, the world's leading traders seem to be assigning minimal probability to either the United States seeking to curb Iranian exports to bring Tehran back to the bargaining table or Benjamin Netanyahu actually backing words with military action.
Figure 2 – Iran's Current Enrichment Levels – and Future Step Ladder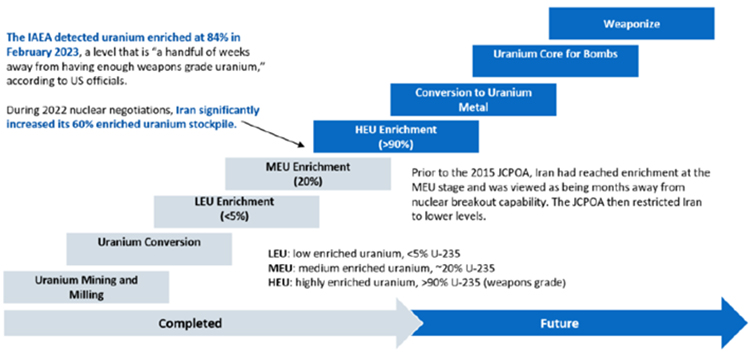 Source: Harvard Kennedy School Belfer Center, Council on Foreign Relations, RBC Capital Markets