Meet the Biopharma Research Team
Dr. Brian Abrahams joined RBC Capital Markets in July 2017 as a senior analyst covering the biotechnology sector. He has 15 years of experience following large, mid, and small cap biotech companies, and prior to RBC spent time in biotechnology equity research at Jefferies, Wells Fargo, and CIBC World Markets / Oppenheimer & Co. He is a licensed non-practicing physician and holds a medical degree from the Albert Einstein College of Medicine. He did his undergraduate studies at Yale University, where he graduated magna cum laude with a Bachelor of Science degree in Molecular Biophysics & Biochemistry.
Dr. Kennen MacKay is a Managing Director at RBC and Co-Head of RBC Biotechnology Research. Kennen has over 10 years of biotechnology experience and previously covered the biotechnology sector at Credit Suisse and Citigroup. Prior to his career on Wall St., Kennen served as Director of the Michelson Prize and Grants under Los Angeles billionaire Dr. Gary Michelson, where he vetted biotechnologies for development in the non-profit setting. Kennen received his Ph.D. in Biochemistry and Molecular Biology from UCLA and his BA in Biochemistry from Colorado College, where he was a 4-yr Academic All-American on the swim team.
Luca Issi joined RBC Capital Market in 2020, and is covering Biotech. Prior to RBC, he was an investor at Bain Capital Life Sciences, where he led private and public investments across biopharmaceutical, medical device, specialty pharma and tools & diagnostics. Prior to Bain, he worked in equity research at Cowen and Company, where he covered large cap pharmaceutical companies. He received his PhD in Biotechnology from Worcester Polytechnic Institute and graduated summa cum laude in Biotechnology from the University of Milan (MS) and the University of Varese (BS).
Dr. Gregory Renza is a Director and Senior Analyst of Biotechnology Equity Research at RBC Capital Markets, joining the firm in 2017. Previously, he served on the biotechnology equity research team at Jefferies as well as the specialty pharmaceuticals equity research team at Wells Fargo Securities. Prior to equity research, Greg worked in management consulting at Booz & Company (now Strategy& at PwC) and in strategy at CVS Caremark (now CVS Health). Greg holds an A.B. in Biology from Brown University and an M.D. from Brown University's Warren Alpert Medical School.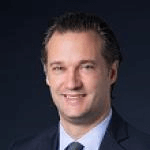 Randall brings more than 20 years of experience to his role as lead analyst of RBC Capital Markets' Large cap, Specialty and Generic pharmaceuticals research team in New York with coverage of over 20 stocks. Randall joined our firm in 2013 following his tenure at Goldman Sachs and Canaccord Genuity, where he provided of the same sector. Prior to becoming a sell-side analyst, Randall followed healthcare stocks on the buy side at Citigroup Global Asset Management. Randall received a bachelor's degree in commerce from the University of British Columbia and he is a CFA charterholder and currently sits on the Board of Directors at the Children's Tumor Foundation. Randall is a Managing Director of RBC Capital Markets.
Meet the Biopharma Investment Banking Team
Andrew 'Cal' Callaway is the Global Head of Healthcare Investment Banking at RBC Capital Markets. He is responsible for coverage of healthcare banking clients and prospects across the sector, including some of the largest pharmaceutical companies in the world. Andrew has over 20 years of investment banking experience and has advised on over 150 M&A and financing transactions in the biopharmaceutical sector. Andrew graduated from Amherst College. He is married with three children.
Ahmed joined RBC in 2019 as a Managing Director in M&A and leads RBC Capital Markets' healthcare M&A practice. He has extensive M&A experience working with both corporate clients and financial sponsors. Ahmed has worked on deals totaling over $75bn+ over last 15 years. He has led numerous complex / global transactions on both the buy side and sell side. Ahmed also works with clients on evaluating a range of strategic alternatives.
Noël Brown is a Managing Director in Global Healthcare Investment Banking at RBC Capital Markets focused on the biopharmaceuticals sector. Noël has over 20 years of experience in the securities industry. Noël graduated from the University of Western Ontario and received a law degree from the University of Ottawa and a MBA from the MIT Sloan School of Business.
Jason Levitz is the Head of Healthcare Equity Capital Markets at RBC Capital Markets. He joined RBC Capital Markets in 2012 and has worked in capital markets and investment banking for over 25 years. Jason has extensive experience leading origination and execution activities for biotech and pharma companies, as well as companies across the healthcare industry. He received a BA from Yale and received his MBA from Columbia Business School.
Vincent Lozada is a Managing Director in the Global Healthcare Investment Banking Group at RBC Capital Markets focused on the biopharma sector. Vince has almost 20 years of investment banking experience. He graduated from Rutgers University with a B.S. in Finance, received his MBA with Honors from The University of Chicago Booth School of Business and completed the Advanced Biosciences program at the University of California, Berkeley. In addition, Vince is a CFA charterholder.
Tim Papp is a Managing Director in Global Healthcare Investment Banking at RBC Capital Markets focused on the biopharmaceuticals sector. He has 20+ years of investment banking experience and has focused on the biopharma sector since 2007. Tim is responsible for origination and execution of financing and strategic advisory transactions, primarily for small and mid-cap public and private companies. He has extensive experience raising capital for biotechnology and specialty pharmaceuticals companies across a range of products, including IPOs, follow-on offerings, private placements and convertible and non-convertible debt offerings.
Tom is a Managing Director in RBC's Global Healthcare Investment Banking team, based in London. He leads RBC's activities with European biopharmaceutical companies, including advising and financing large cap pharma, generics, specialty and biotech companies, as well as private equity sponsors. Tom has 20 years of investment banking experience and has been part of the RBC team since 2015. He holds an MA in Biological Sciences from Oxford University.
Greg Wiederrecht is a Managing Director in Global Healthcare Investment Banking at RBC Capital Markets, principally focused on large-cap pharma, mid-cap pharma and the biotechnology sectors. He was previously the Vice President and Head of External Scientific Affairs (ESA) at Merck & Co., Inc. where he was employed for 25 years. Within the Worldwide Licensing & Acquisitions department, ESA was responsible for the identification and scientific assessment of all licensing, collaboration, and acquisition opportunities for Merck and had responsibilities in the negotiation of agreements. Greg managed a group of 85 scientists, medical doctors, negotiators, paralegals, and administrators, distributed worldwide and divided by various therapeutic and platform areas, who identified and assessed opportunities outside of Merck's walls.
Subscribe Today
Get the latest insights from RBC Capital Markets delivered to your inbox.