It's about life. That was the message received loud and clear by colleagues from RBC's London offices who were given an inspiring tour of Demelza Hospice Care for Children's South East London 'home from home'. The visit was led by Alistair Featherstone, Head of Central Funding and he was left in no doubt that staff and volunteers at the Eltham facility are optimising the quality of life of children battling serious, and often terminal conditions. 'We've seen just how dedicated Demelza is to making the time that families have together as wonderful as it could possibly be. From the captivating 'sensory zones' where young children participate in their own music therapy, to the cheery play rooms and homely accommodation areas. It's abundantly clear that life here at Demelza is lived to the full' said Alistair.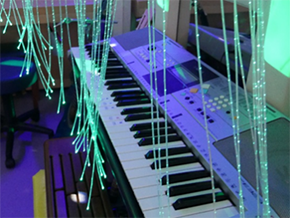 Music therapy is a popular activity in Demelza's sensory zone
RBC's Capital Markets and Investor & Treasury Services staff play an active role in the selection of the charities supported by the firm. Demelza's chief executive Ryan Campbell, CBE commented, 'We were simply delighted when we learned that scores of RBC staff had voted to make Demelza Hospice Care for Children one of the six lucky beneficiaries of RBC's global Trade for the Kids event last June. Demelza staff, volunteers and families who have used our services, visited RBC's trading floor to share their stories. And in turn, representatives from Demelza were able to learn how RBC's culture of supporting local communities had inspired so many staff to volunteer and fundraise for youth and environmental causes in and around the capital.'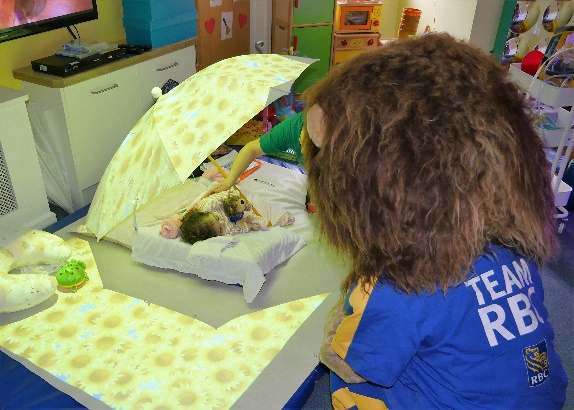 Leo the Lion watches over 2 year old Demelza resident, Melissa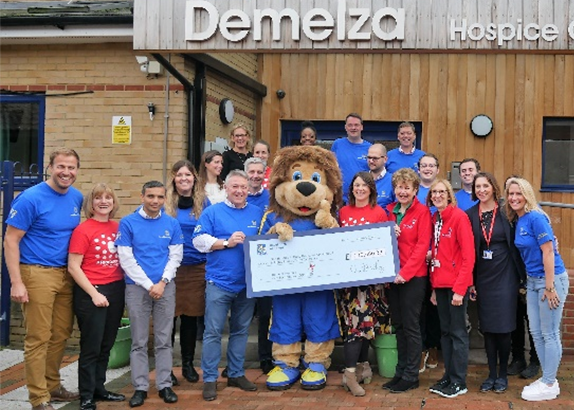 Demelza's staff receive a cheque from Team RBC
Lila Dowie, Head of the Corporate Partnerships and Trusts team at Demelza, explained how the £130,000 Trade for the Kids donation was helping to broaden and diversify the Charity's services and the positive impact on families coping with a child nearing the end of life that Demelza's programmes can have. These include care at home, music therapy and family day trips. 'Imagine never having experienced the sensation of sand or a wave lapping underfoot. Some of our families have never been able to visit a beach. Our day trips, funded by RBC, are all about making precious memories. By laying track across the sand and by bringing the necessary facilities like mobi-loos to coastal spots, our young wheelchair users can indulge all their senses on the many wonders of the seaside' said Lila.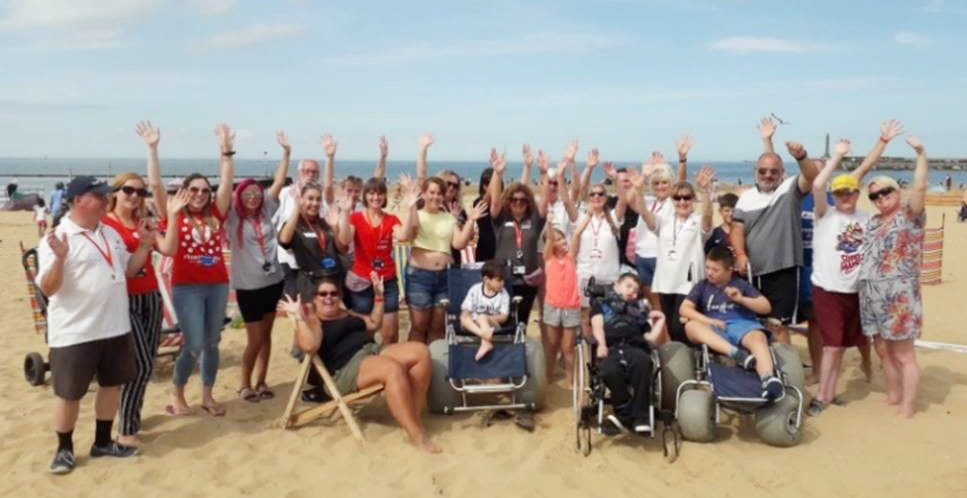 RBC funds day trips like this one where Demelza families enjoyed a rare seaside treat together under the sunny skies of Margate
Volunteers from across RBC's London offices are now signing up to a wide range of tasks from maintaining the hospices and family homes, to staging fundraising events and categorising donated items at the Demelza warehouse that are going to help Demelza's families get the very most from life together.