For rising theatre talent Katy Rudd, putting on the first play at The Old Vic after a long COVID-19 hiatus was a journey of faith, perseverance and ultimately triumph as cast and crew combined to return live theatre to the public.
Rudd was appointed 'Baylis Director' at The Old Vic for 2020/21, bringing the opportunity to produce a full-scale production on the main stage of one of London's most iconic and venerable theatres. Through September and October, her direction of Bess Wohl's play "Camp Siegfried" played to live audiences at The Old Vic for the first time since the COVID-19 pandemic.
"I think the overwhelming feeling was of excitement and joy to be back together in a room and to be able to do the job that we love so much," said Rudd.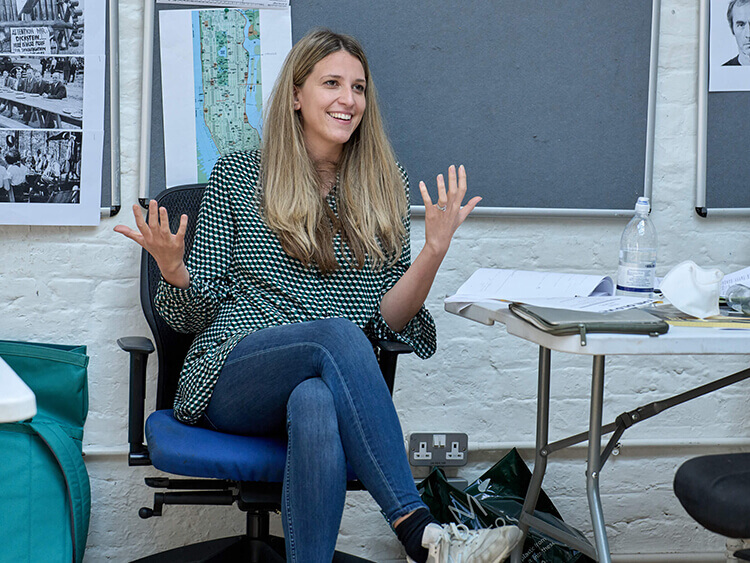 Photo credit: Manuel Harlan
The outbreak of COVID-19 had a significant financial impact on The Old Vic, initially raising fears for its programmes for emerging talent. However, the theatre has thrived on the flair and creativity of its custodians for more than two centuries. It continues to do so now, staying resilient in adversity with the help of RBC and creative forces like Rudd.
Nurturing a vision through lockdown and Zoom
Putting on Camp Siegfried, a story of love and terror on Long Island, required invention, improvisation and adaptability, critical tools for a diverse group of workers. Rudd needed to find innovative solutions to ensure her tenured year was a success through an often fraught period. She fell in love with Camp Siegfried's script while in lockdown and held Zoom meetings to flesh it out with writer and Long Island resident Wohl.
"I thought that it was funny and warm and dark and frightening and I cared about the characters and who they were and I asked to direct it," said Rudd. "I met with Bess on Zoom and we developed the script together for about six months before we started going into pre-production work.
"It was an amazing thing to have during lockdown, during that quite hopeless time, to be able to spend time thinking about it and imagining it for myself was really lovely."
Developing a play amid a pandemic was a production in itself, particularly given the uncertainty as to whether audiences would be allowed. Cast and crew had to be socially distanced as per health regulations. COVID-19 tests were undertaken daily. But the restrictions did not dim the creative output, nor the enthusiasm of those involved.
"We were making Camp Siegfried not knowing if it would open to a full audience," said Rudd. "We didn't totally know if anyone would come back to the theatre. So we were planning it on hope.
"But then we (were) unlocked and it was suddenly possible to be in the room with actors again. The actors bubbled up so that they could work together."
Lights, cameras and online action

Photo credit: Manuel Harlan
Rudd's role as Baylis Director, one of the programmes supported by RBC, expanded beyond the stage to the methodology of productions in the digital age. As associate director, Rudd worked on the "In Camera" series featuring plays including "Lungs", "Faith Healer" and "Three Kings", all directed by Matthew Warchus.
They were filmed in an empty auditorium but streamed globally through the pandemic, allowing theatre-lovers to enjoy them from home. The Old Vic staff were redeployed, with the Technical Team converting to camera crew to relay the performances online. If anything, the adversity was a spur for those involved, being mindful of the boost the productions could give to audiences around the world.
"Most of us were learning about this new medium and using the Zoom format to be kind of creative," said Rudd. "It was really everyone pulling together to try and make something that would help get us through and keep the doors open.
"It was really moving to see everybody cares enough to keep the theatre going and to learn new things in order to do that."
Rudd, with cast, crew and the dedicated staff of The Old Vic, showed what can be achieved when creativity blends with innovation. RBC, in partnership with The Old Vic's Emerging Talent Programme, supports artists like Rudd who recognise the power of bringing people together and possess the drive to make it happen.
"It was hugely rewarding to see Katy realise her vision and for The Old Vic to welcome back live audiences," said Prue Thompson, Managing Director, Head of Marketing & Client Engagement, RBC Wealth Management and RBC I&TS. "It has been RBC's privilege to support the Old Vic as part of our Emerging Artists Project, and we are glad to play our part in helping the creative arts industry thrive."
"It's been really exciting for us to extend our support of The Old Vic through RBC's Emerging Artists Project, as we acknowledge the important part the creative industry plays in sustaining our communities and culture."
Our partnership with The Old Vic supports RBC's commitment to help clients thrive and communities prosper. In addition to The Old Vic, RBC Europe partner with a number of community projects, charity partners and organisations to raise money for worthwhile causes and to support local communities. Find out more at www.rbccm.com/europe.
---