RBC employees who are avid supporters of Ronald McDonald House share their experience about coming together as a community.
Q: How would you describe the transformational impact of what Ronald McDonald House does for families and kids?
Bobby Grubert: Ronald McDonald House New York gives families of kids who are undergoing treatment for critical illness a free 'home-away-from-home' when they need it the most.
Liz Wintrich: The impact I've witnessed is the happiness that Ronald McDonald House is able to provide to the families and children undergoing treatment. To be able to be a part of that as a volunteer is really gratifying.
Q: How does RBC and its employees help make an impact with Ronald McDonald House?
Bobby Grubert: One of the key events that helps provide critical funding for the families of Ronald McDonald House is Skate with the Greats. For the past 12 years, RBC Capital Markets has served as the title sponsor, and this year we helped raise $825,000 to provide compassionate care and vital resources to these kids and their families.
Dan Rosenbaum: In addition to participating in large-scale events like Skate with the Greats, or ringing the closing bell at the New York Stock Exchange with Ronald McDonald House staff, we want our employees to become more engaged at a grassroots level. Right now, we still can't serve dinners at Ronald McDonald House in-person, but we've come up with other ideas such as decorating meal kits and delivering them to families. We always make an impact, even when we can't be physically in-person together.
Tom Fredericks: We also make a positive difference for the kids and families through our flagship philanthropic event RBC Race for the Kids. MSK Kids at Memorial Sloan Kettering Cancer Center is the nonprofit beneficiary of the Race in New York, and many of the kids who are treated at MSK Kids will stay at Ronald McDonald House. It's all part of the ecosystem of supporting these kids' lives.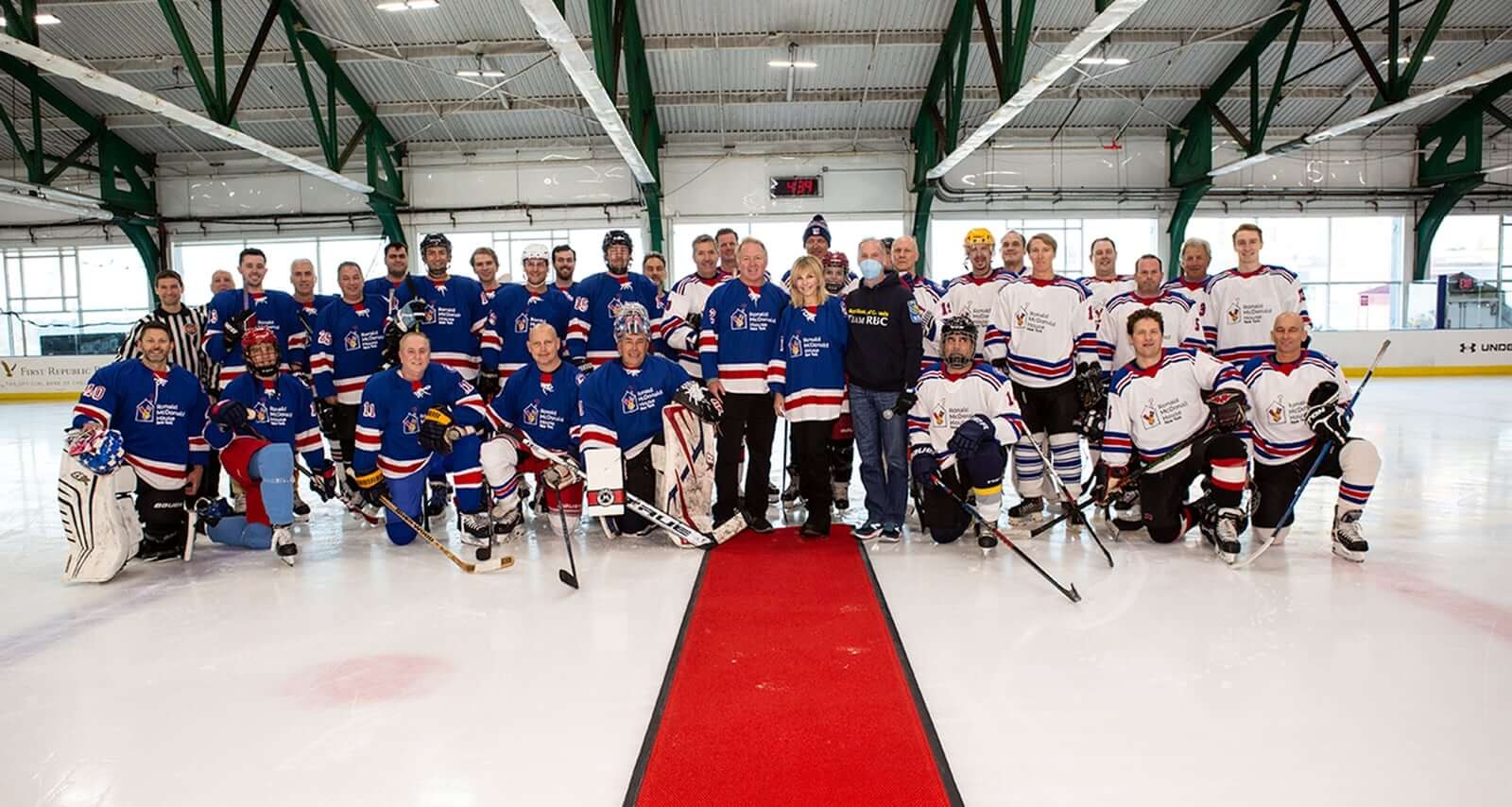 Hockey players gather at Skate with the Greats for the 1st Annual Rod Gilbert Memorial Hockey Game
Q: The relationship with Ronald McDonald House and RBC extends from New York to Toronto to London to Sydney, and across lines of business in RBC Capital Markets, RBC Wealth Management, and City National Bank. Can you talk about this exponential global impact?
Liz Wintrich: It started as a grassroots effort which gained international traction, and now Ronald McDonald House is one of RBC's marquee nonprofit partners. Our involvement is rooted across every business line. It's important to be able to bring our culture of philanthropy directly into the community, and our employees value being part of a company that does that.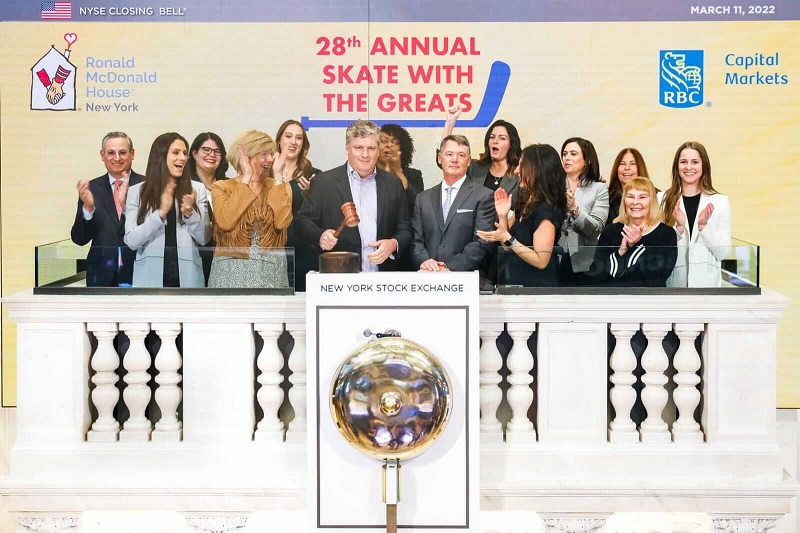 RBC Capital Markets employees and Ronald McDonald House staff ring the New York Stock Exchange closing bell to kick off the 2021 Skate with the Greats celebration
Q: What does the importance of being a "culture carrier" at RBC mean to you and how does Ronald McDonald House fit into that?
Callie Simpkins: To me, being a culture carrier at RBC really just means I get to be myself, and I'm thankful to work at a place that aligns with my values. At RBC, everyone is committed to giving back, whether it be volunteering or participating in events to raise money for Ronald McDonald House like the New York City Marathon or Skate with the Greats. I'm reminded on nights like Skate with the Greats of how fortunate I am for my health and my family's health, along with so many other things, and that I have an obligation to give back.
Bobby Grubert: Our culture is centered on engaging with our company's mission, supporting our clients, and giving back to the community. Our partnership with Ronald McDonald House helps put our purpose of helping clients thrive and communities prosper into action; we "walk the walk". Whether it's in person or virtual, it's just what we do.
---
To learn more about our partnership with Ronald McDonald House and their mission, watch our Change a Life videos.
---