As part of this year's global RBC Employee Giving Campaign, we invited Ronald McDonald House Charities UK (RMHC UK) to our City of London office to celebrate reaching the milestone of £1 million raised since our partnership began.
RBC's involvement with the Charity began in August 2015 after employee Jordan Lorch, who had volunteered for the New York chapter of Ronald McDonald House Charities, was transferred to London. After seeing the impact RBC's volunteering had on the families the Charity supports in the US, Jordan was keen to cultivate a relationship between RBC and RMHC UK.
Since then, the partnership has gone from strength to strength and is very much led by employees. Support includes volunteering activities such as cooking, gardening, decorating, and organising themed events to give families a chance to make happy memories in the Houses. Many employees also raise funds through challenge events, such as The Royal Parks Half Marathon, presented by RBC, and other fundraising initiatives. RMHC UK have also been selected by employee vote to be a beneficiary of RBC's annual global charity initiative, RBC Charity Day for the Kids, for the past six years, which has helped to tip RBC's fundraising total over the £1 million mark.
"The passion and commitment of RBC employees is what makes our relationship with Ronald McDonald House Charities UK so special. The majority of our fundraising and volunteering initiatives are organised by employees and we always have huge support by individuals and teams to get involved. It's been fantastic to return to in-person events and volunteering this year, enabling visits to the Houses and for employees to see the impact of their support first-hand.

"We're so proud that our employees have helped us raise over £1 million and donated over 4,500 volunteer hours to this great charity to date and that we could celebrate this milestone in our office with representatives from the charity. We look forward to growing our support even further in 2023 so that we can help even more families going through such difficult times."

- Graeme Pearson, Global Head of Research, RBC Capital Markets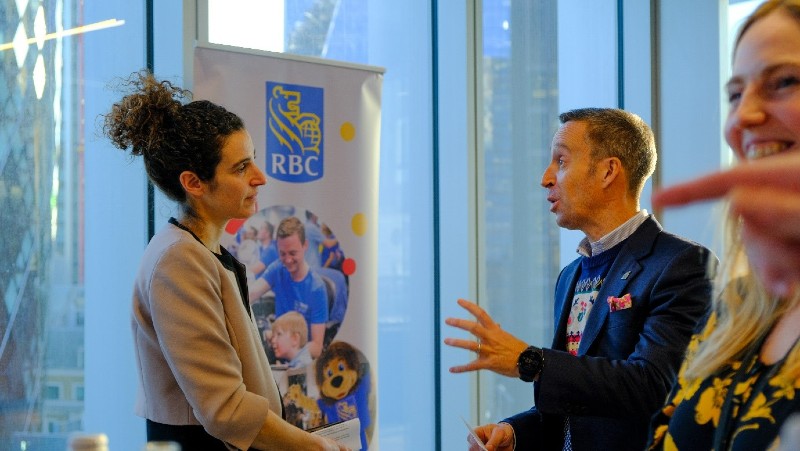 The new CEO of RMHC UK, Ella Joseph, spoke at our celebratory 'Lunch and Learn', to help raise awareness of the Charity's vital work amongst employees. It was also a chance to find out about future fundraising and volunteering opportunities, to help reach the next milestone.
Mum-of-two, Kate Algar, from Eastbourne in Sussex, shared her emotional experience of staying at the Ronald McDonald House Evelina London, when her 12-year-old son Tom was receiving life-saving treatment after he contracted E. Coli.
"We were one of the families to benefit from fantastic initiatives organised by RBC, including 'Takeaway Tuesdays' and even a chocolate egg donation, gifted during our stay at the House over the Easter Holidays. It was a pleasure to speak at the event and share my personal experience of what it's like to have a sick child in hospital when you are miles away from home.

"I certainly learnt a lot about the bank's contribution to the Charity in terms of financial donations and volunteering hours and hope that I did my bit to encourage more volunteers. It was great to be able to thank RBC staff in person and show my appreciation for everything they do."

- Kate Algar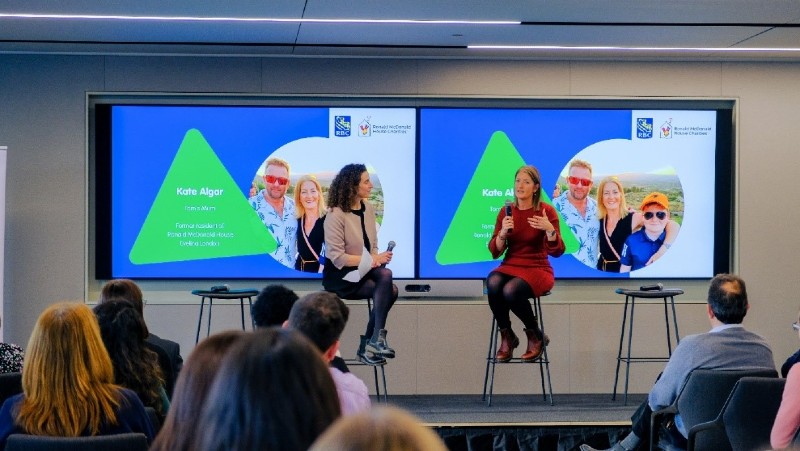 "It was fantastic to get together with RBC colleagues to celebrate this special milestone and talk about our shared values and what the future holds for our partnership. On behalf of the thousands of families we support each year, we want to thank RBC sincerely for their huge efforts in fundraising and volunteering for our Charity and look forward to more events and initiatives with them in 2023 and beyond."

- Ella Joseph, CEO, Ronald McDonald House Charities UK
The partnership between RBC and Ronald McDonald House Charities is truly global and growing year on year. Staff volunteer, fundraise and take part in challenge events across North America, Europe and Asia-Pacific with RMHC a beneficiary of RBC Race for the Kids events in Sydney, Kuala Lumpur and Minnesota.
Our partnership with Ronald McDonald House Charities UK supports RBC's commitment to helping clients thrive and communities prosper. RBC Europe partners with a number of community projects, charity partners and responsible organisations to raise money for worthwhile causes, protect the environment and support local communities. Find out more at www.rbccm.com/europe.
---