---
---
European insurance: Insurers are not banks; recent share price falls are a buying opportunity
RBC Capital Markets Equity Research team notes that since the collapse of SVB, investor concern has not been limited to other banks but also insurers. As a result, their share prices have seen significant falls (European insurance sector down 9.9% since close 9th March 2023). However, insurers and banks are fundamentally different, it argues. RBC sees UK annuity writers as attractive at current valuation levels, with all outperforming earnings expectations at FY22 results. Furthermore, they should benefit from the rapid acceleration in the bulk annuity opportunity, a slowdown in future longevity improvements, and Solvency II reform.
Insurers are not banks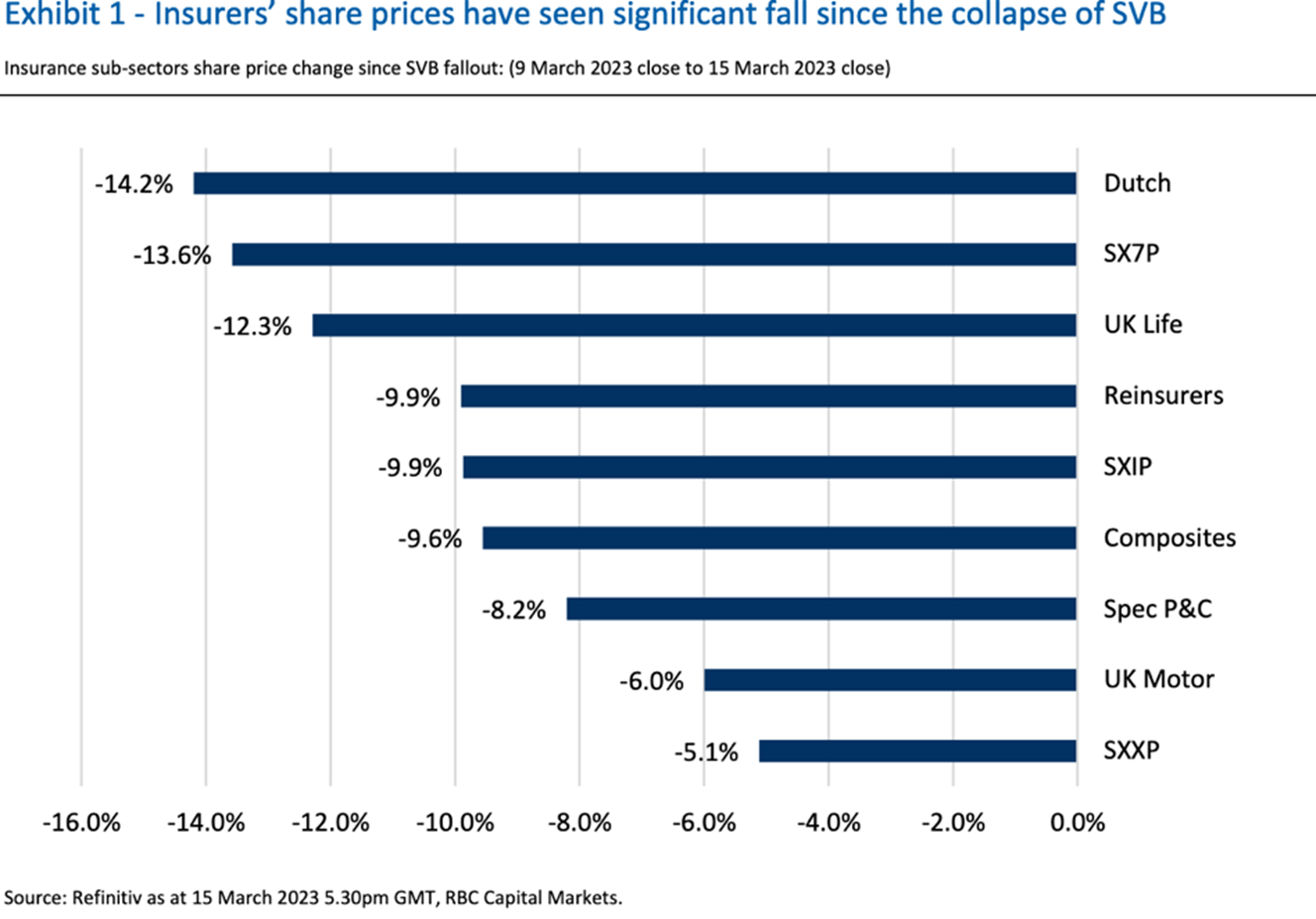 RBC thinks there is no such thing as a run on an insurer. Banks only keep a small proportion of their assets as cash and bank runs often stem from concerns that they could be in trouble if customers withdraw money. However, insurers provide protection against risk. Customers pay in premiums, which insurers put into reserves. Insurance is risk sharing – the customers who claim (for circumstances they do not chose such as death, illness, damage to their property, vehicle etc.) are subsidised by those who do not.
What happened at SVB?
Tech companies (including many start-ups) deposited money at SVB. The bank used around half of its deposits to buy bonds, some treasuries, but mostly invested in mortgage-backed securities (MBS). However, the value of those bonds dropped amid interest rates hikes, creating unrealised losses. The higher interest rate environment forced tech companies to raise money through alternative investors so they came back to SVB to withdraw some of their deposits. SVB then had to sell bonds which resulted in a significant $1.8bn loss. SVB then planned a $2.25bn equity issue to cover the loss, which prompted the tech companies to withdraw their deposits, hence "run on the bank", RBC explains.
There is no such thing as a run on insurers
RBC remarks that a major bank risk is lack of liquidity, while insurers have an abundance of it. A concern for banks is liquidity (i.e. paying the next customer), insurers' concern is solvency (i.e. paying the last customer). Under Solvency II no insurer has needed financial assistance. During the 2008-9 Global Financial Crisis, there were bank runs at Northern Rock and Washington Mutual. The insurance companies which did get into difficulty during the 2008-9 financial crisis did so because of their banking activities. RBC adds that the solvency regime which UK and EU insurers are regulated under has been strengthened since 2016, and under Solvency II no insurer has needed financial assistance.
Banks cannot be sure of the duration of their liabilities; insurers know them exactly
Furthermore, while banks cannot be sure of the duration of their liabilities; insurers know their liabilities with a very high degree of certainty. This difference in asset and liability matching is central to the difference between banks and insurers, RBC stresses. Banks make an estimate the duration of their liabilities based on normal customer behaviour and match assets and liabilities accordingly. However, if there is a run on the bank, then the duration of deposits reduces rapidly and it will have liabilities to pay now but not enough liquid assets to do so. Insurers' liabilities are based on future assumptions (weather, demographic factors and economic assumptions) that cannot be exactly predicted but risk is spread over a large number of policies. Furthermore, insurers only invest in investment grade credit and are underweight bank debt, RBC points out.