Leveraging Private-Sector Expertise to Generate New Public Benefits

In cities and states across the United States, public-sector entities are harnessing new ideas and technologies to transform their assets for broad public benefits. Today, on any given block in New York City, the same spot where a payphone once stood is a digital "Link" kiosk. Here, a worker can charge her phone, a visitor can look up directions, and a resident can register to vote. Along select highways in Oregon, Georgia, and other states, previously underutilized right-of-ways are now home to solar panels positioned to help illuminate roadways and power local electricity grids. In Boston, a paratransit rider is no longer limited to public van services and can now use on-demand transportation providers such as Uber or Lyft to travel throughout the city at lower costs for the local authority.
RBC Capital Markets has sponsored a new report focused on how government and public institutions, including higher education, can create value from their assets by collaborating with the private sector: Unlocking Value from Public Assets: Leveraging Private-Sector Expertise to Generate New Public Benefits.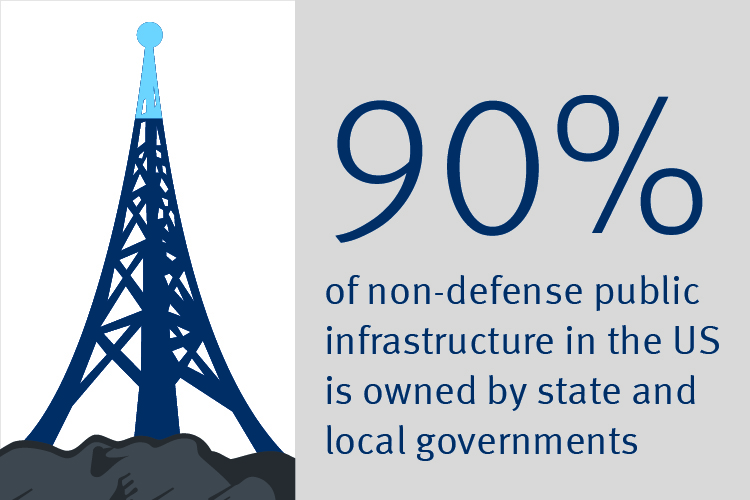 State and local governments in the United States own 90 percent of non-defense public infrastructure, making public assets a unique area of opportunity. Through five case studies, this report demonstrates how private sector expertise, when applied to public assets, can generate a range of diverse public benefits. The case studies highlighted in the report include:
LinkNYC is transforming outdated payphones into 7,500 "Links," communication hubs that provide free Wi-Fi, phone calls, USB charging, access to City services, and maps, among other features.
The Ohio State University Comprehensive Energy Management Plan is leveraging existing energy assets to generate $1.2 billion in upfront investments for the University's endowment and sustainability initiatives.
Massachusetts Bay Transportation Authority On-Demand Paratransit Program is re-envisioning paratransit services by supplementing publicly-owned vehicles with private, on-demand Uber and Lyft.
Oregon Department of Transportation Solar Highway Program is working with private utility and equity partners to transform previously unused right-of-ways into solar highways that produce cost savings and feed the private energy grid.
University Center of Chicago, The Educational Advancement Fund – a nonprofit representing Columbia College, DePaul University, and Roosevelt University – has employed an innovative disposition strategy that will redirect university resources toward core academic objectives while retaining high quality student housing.