We are proud to share that RBC Capital Markets has once again assumed a leadership position in Greenwich's recently released 2017 Leaders Awards for Canadian Equities and Research.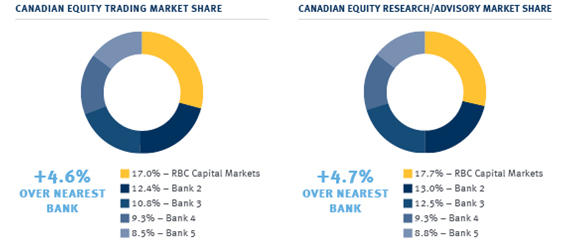 Our continued strength in the Canadian equities market is clear as we rank 1st in Canadian Equity Trading and 1st in Canadian Equity Research/Advisory. Our commitment to electronic trading is also confirmed as we rank 2nd in Canadian Equity Electronic Trading Penetration.

In addition, Greenwich named RBC Capital Markets:
Sole Quality Leader in Canadian Equity Sales Trading & Execution Service
Quality Leader in Canadian Equity Sales & Corporate Access
Quality Leader in Canadian Equity Research Product & Analyst Service
Greenwich Associates interviewed more than 100 institutional investors about the quality of the service they received in sales, trading and research to determine these results.
We would like to thank our valued clients for their confidence and helping us achieve this recognition.