One of the biggest frustrations we've heard from asset managers has been the lack of corporate transparency about carbon emissions targets.
Those concerns may finally be addressed with a proposed new Securities and Exchange Commission (SEC) climate disclosure rule. If passed, the rule would require all U.S.-based publicly traded companies to report their direct and indirect greenhouse gas (GHG) emissions, (Scope 1 and Scope 2) in both SEC filings and annual reports.
It would also require larger companies to disclose material GHG generated by suppliers and partners (Scope 3), if they are included in their emissions targets. Scope 3 disclosures are considered more controversial than Scope 1 & 2, given their measurement complexities.
Most of the popular S&P 500 names already voluntarily disclose Scope 1 and 2 climate-related information, but not all disclosures comply with GHG protocols; Scope 3 disclosures are less frequent. Within SMID Cap names, Scope 1 and 2 disclosures are rarer still.
Our recent ESG Scoop report "SEC Releases Long Awaited Climate Disclosure Rule Proposal" explores the proposal and its implications in more detail.
Key disclosures proposed for U.S.-based public companies
The current proposal, which aligns closely with the Task Force on Climate-Related Financial Disclosures (TCFD) framework, would require all U.S.-based public companies to mainly disclose:
How climate-related risks impact their businesses and financial statements;
If they have adopted a transition plan (including a description and relevant metrics and targets used to identify and manage physical and transition risks);
Data on GHG emissions (including Scope 3 in certain instances and defined according to the GHG protocol); and
If they have publicly set climate-related targets or goals, and how they intend meet those targets.
Under the proposal, larger companies would be required to disclose data on Scope 1 and 2 emissions for the FY2023 reporting period but would have a longer phase-in for Scope 3 reporting. The proposal exempts certain smaller companies from Scope 3 reporting.
The charts below illustrate specific disclosure requirements and phase-in periods: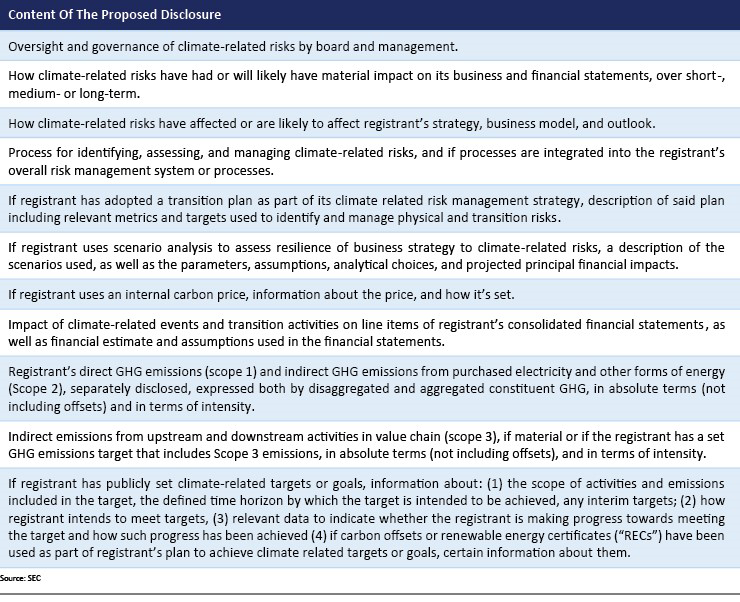 Proposal offers investors greater consistency
We believe this new proposal, particularly the way it is modelled after the TCFD framework, will be a welcome change for those who have expressed frustration about the lack of clarity about climate-related risks. Having access to details around emissions targets, and particularly how companies intend to meet these targets, will provide some much-needed clarity for ESG investors and asset managers.
---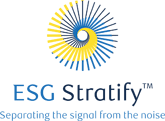 Our Commitment to ESG
ESG StratifyTM encompasses all of RBC Capital Markets' ESG thought leadership and insights, including our monthly ESG Scoop series and industry-specific publications from our research analysts. RBC's Equity Research Group delivers thorough, comprehensive assessments of companies spanning all major sectors, along with macro insights and stock-specific ideas to help guide portfolio management decisions.