Introduction
A number of major global events have transpired since RBC Equity Research published the inaugural RBC Global ESG Best Ideas List in July 2019. Climate change continued to increase in focus as a leading consideration for governments, companies and investors alike and The World Economic Forum's Global Risk Report was dominated by environmental concerns for the first time in its history. The economic and social cost of the COVID-19 pandemic has been born unequally, and likely contributed to the global protests around the world demanding a more inclusive and equitable future for all. This has in turn led to increased prominence of the "S", or the social factors within the ESG framework as investors scrutinize how well companies are managing all stakeholders, including employees, customers, and communities. Governance factors, such as corporate culture, executive compensation, and risk management, are also drawing increased attention.
This extraordinary time has provided an opportunity for governments, investors and companies to re-align their investment strategies and capital plans with more sustainable objectives, an approach we view as supportive of an ESG integration philosophy. The 2020 Global ESG Best Ideas list applies this approach to provide investors with a selection of high-conviction names that also demonstrate industry-leading performance across ESG factors. Recent developments in the global sustainable debt market also apply an integration approach which should result in broader application and accessibility to the sustainable debt market in the future.
Sustainable Investment and ESG Integration
Sustainable investing is an investment philosophy that incorporates ESG factors alongside financial considerations in the investment decision-making process. There are many different investor approaches to sustainable investing, including exclusionary screening, ESG integration, thematic investing, and impact investing. ESG integration is among the fastest-growing and most popular in asset-weighted terms, particularly in North America, Australia, and New Zealand.1,2
ESG integration refers to the practice of incorporating material ESG factors alongside traditional financial analysis and is grounded in the belief that sustainability metrics can provide valuable insight into corporate performance. The concept of financial materiality is key; ESG integration involves integrating the material ESG factors that are considered likely to affect the financial condition or operating performance of a company.3,4
Mainstream investors are increasingly using ESG factors as an alternative dataset to provide insight into material non-financial risks that may not otherwise be captured in traditional financial analysis. Ultimately, incorporating ESG factors into the investment decision-making process allows investors to be better prepared to evaluate and manage a wider scope of longer-term risks and opportunities.
The impact of COVID-19 on the financial system has provided an opportunity for many investors to re-align their portfolios with more sustainable objectives. Recent research from RBC CM U.S. Equity Strategist Sara Mahaffy notes that sustainable fund inflows are on pace to hit new highs in 2Q20. On June 16, 2020, RBC Capital Markets published the 2020 Global ESG Best Ideas List, which aims to provide investors with a selection of high-conviction names that also demonstrate industry-leading performance across environmental, social, and governance factors.
Looking ahead, we see a trend around the blurring of lines between previously distinct approaches to sustainable investing. Products that combine various sustainable investing strategies – for example, principles of exclusionary screening with best-in-class ESG integration – are becoming more common. As approaches to sustainable investment continue to evolve, supported by increasingly sophisticated tools and data, we believe this trend of cross-pollination across different ESG investment strategies will continue to develop.
Recent Developments in the Sustainable Debt Market
There are currently two distinct approaches to sustainable debt: the "use of proceeds" (UoP) approach and the sustainability linked approach. Labelled green, social, and sustainability (GSS) bonds and loans use the UoP approach, whereby proceeds must be allocated to eligible projects that provide clear environmental and/or social benefits.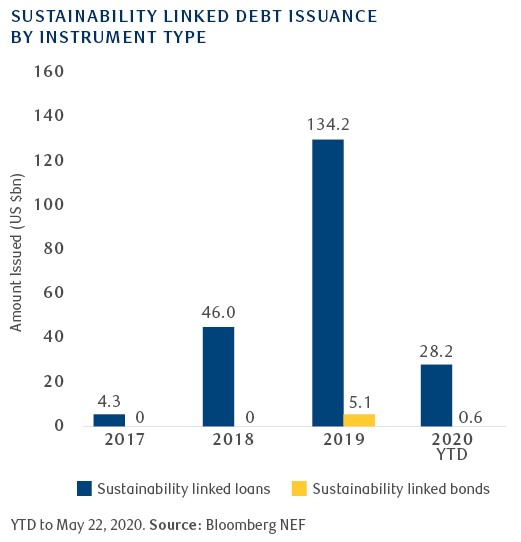 By comparison, the sustainability linked approach allows for a much broader application and focuses on the issuer's sustainability performance, rather than the use of proceeds. The sustainability linked approach can be viewed as an extension of ESG integration on the financing side; inclusive of all sectors, the focus is on the company's performance on material sustainability metrics. The terms of the sustainability linked bond or loan are aligned to performance against predetermined Sustainability Performance Targets (SPTs), and proceeds can be used for general corporate purposes.
The sustainability linked approach is relatively new, with the first sustainability linked loan issued in 2017 and the first sustainability linked bond issued in 2019. This spring, the International Capital Market Association (ICMA) released voluntary process guidelines for the issuance of sustainability linked bonds, and the Loan Syndication and Trading Association (LSTA) published new guidance on sustainability linked loans. The release of this supporting documentation has raised expectations that the instruments will be increasingly adopted in the near future.
Closing Thoughts
As we look back at our five ESG themes for 2020, including the rise of inclusive capitalism, sustainable finance for all, growth of sustainability linked loans, reporting standards coming of age, and increased risks of "rainbow washing", we feel that they all still ring true, despite the financial and social upheaval witnessed year to date. Our second theme highlighted "Sustainable Finance for All' and noted that 2020 will be characterized by further innovation as the market moves beyond a pure use of proceeds approach to also embrace a sustainability linked approach. We feel that in order to address the environmental and social issues that we are faced with today, a multitude of approaches is required, allowing for breadth and depth at the same time.
We are encouraged to see broader application and integration of ESG factors into the investment decision making process and across a wide variety of applications, including RBC's Global ESG Best Ideas List and a wide variety of sustainable debt applications.